Order your championship photos today!

Cross Country Information
Tournament Information
Cross Country History
Cross Country News and Notes
2015 OATCCC Cross Country State Polls
How a panel from the Ohio Association of Track and Cross Country Coaches rates Ohio cross country teams in the weekly OATCCC poll. Weekly Polls: Preseason | Week 1
2015 OHSAA Junior High Postseason Cross Country Invitational
The Third Annual OHSAA Junior High Postseason Cross Country Invitational at Lancaster High School will be held on October 24, 2015 featuring two mile races of team and open competition among junior high schools of similar size. There will be team and individual awards for all races. Information will be sent to athletic directors in August.
OHSAA Junior High/Middle School Cross Country Invitational Information
Date: October 24, 2015

Site: Lancaster High School

Athletic Directors will be emailed registration instructions in August.
2015 High School District & Regional Tournament Information
2015 High School State Championships - November 7, National Trail Raceway
State Championship Results
| | | | |
| --- | --- | --- | --- |
| Boys | Division I | Division II | Division III |
| Girls | Division I | Division II | Division III |
State Qualifiers & Starting Line Assignments
| | | | |
| --- | --- | --- | --- |
| Boys | Division I | Division II | Division III |
| Girls | Division I | Division II | Division III |
2015 OHSAA High School Preseason Cross Country Invitational
July 7 - 2015-2016 NFHS Rules Changes Approved for Track and Field, Cross Country
2014 OATCCC Cross Country State Polls
How a panel from the Ohio Association of Track and Cross Country Coaches rates Ohio cross country teams in the weekly OATCCC poll. Weekly Polls: Preseason | Aug. 28- Week 1 | Sept. 4 - Week 2 | Sept. 11 - Week 3 | Sept. 18 - Week 4 | Sept. 25 - Week 5 | Oct. 2 - Week 6 | Oct. 9 - Week 7 | Oct. 16 - Week 8 (FINAL REGULAR SEASON POLL) | Oct. 23 - Pre-Regional Poll | Oct. 30 - Pre-State Poll
Aug. 1
First Day of Coaching
Aug. 24
Season Begins
Sept. 21
Non-Interscholastic Competition No Longer Permitted
Oct. 24
District Tournaments
Oct. 31
Regional Tournaments
Nov. 7
State Championships
Nov. 7
Season Ends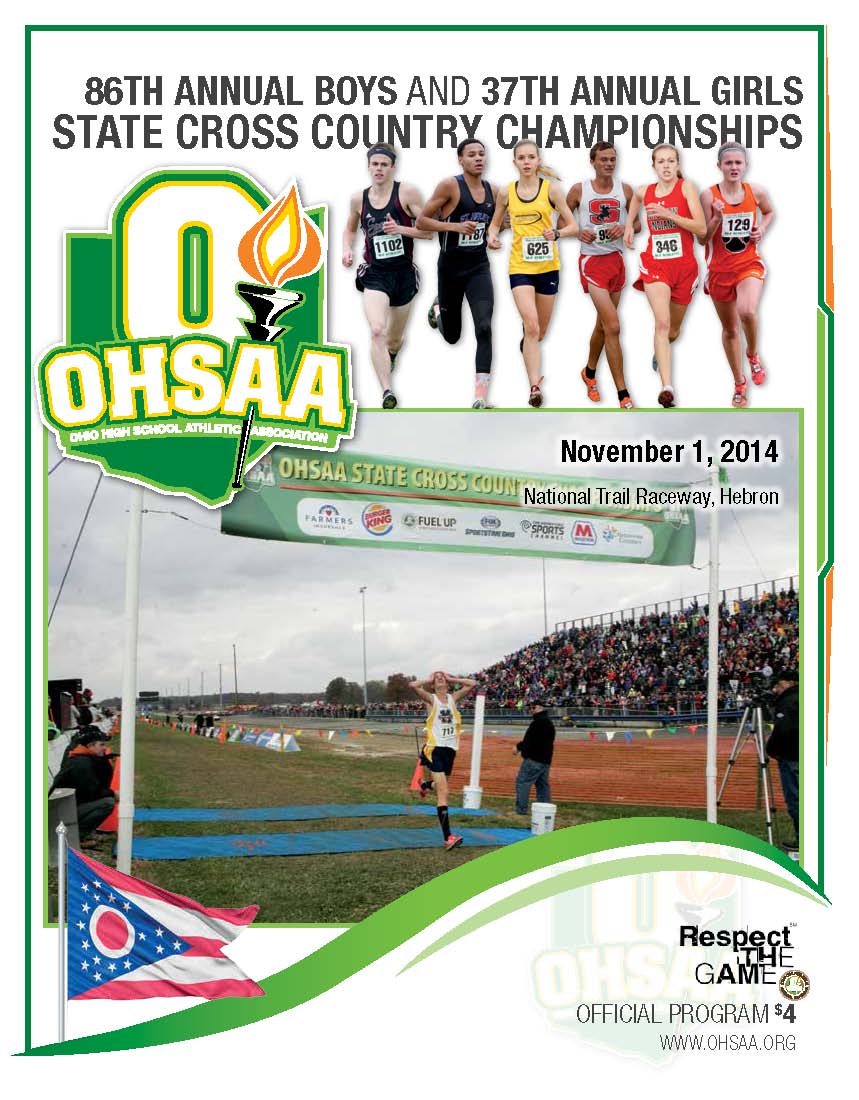 Order Programs from the 2014 State Cross Country Tournament

Directions, Hotels, Tickets, Gear, Programs, DVDs