2011 Circle of Champion Members:
Wayne Embry
Jim Houston
Harrison Dillard
Madeline Manning Mims
Phil Niekro
John Havlicek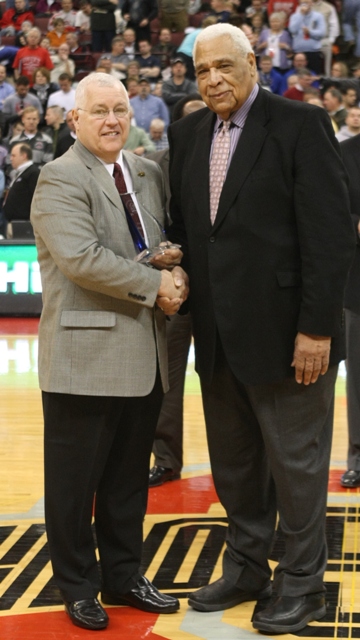 Wayne Embry was born in Springfield. He became a basketball standout at New Carlisle Tecumseh High School and went on to star at Miami University, where he was a two-year captain and earned all-conference honors.

He then had a distinguished career in the NBA, spending 11 years with Cincinnati, Boston and Milwaukee. He played in the NBA All-Star Game five times and was a member of the World Champion Celtics in 1968.

Following his playing days, Embry quickly moved into NBA management positions and became the first African-American NBA general manager, managing Milwaukee between 1972 and 1979, Cleveland between 1986 and 1999 and Toronto in 2006. He was selected NBA Executive of the Year twice. Wayne has served in various roles with the Raptors since 2004 and is currently senior advisor.

Embry was enshrined in the Naismith Memorial Basketball Hall of Fame in 1999 as a contributor. He and his wife, Terri, have three children and a grandchild. They currently split time living in Toronto, Arizona and Wisconsin.

Jim Houston was born in Massillon and was an All-Ohio football player at Washington High School for the Tigers. He then attended Ohio State and was a standout two-way end on the football team. In his sophomore year in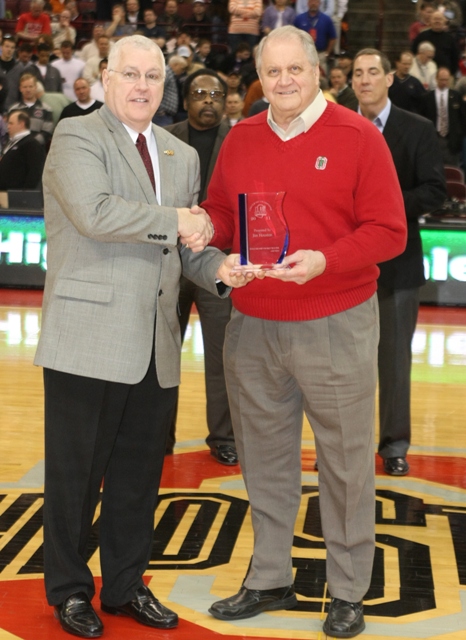 1957, the team finished 9-1, defeated Oregon in the Rose Bowl and won the school's third National Championship. In his Buckeye career, Jim was twice named All-American, All-Big Ten and team MVP, and he was team captain as a
senior.

Selected in the first round of both the AFL and NFL drafts in 1960, Jim followed his older brother Lin's footsteps and signed with the Browns. The defensive end/outside linebacker played 13 years in Cleveland, was on the Browns' NFL Championship Team in 1964 and was a four-time Pro Bowl selection.

Jim is a member of the Ohio State Athletic Hall of Fame and was named to the College Football Hall of Fame in 2006. Also in 2006, he was honored as a Cleveland Browns Legend. He and his wife, Donna, reside in Moreland Hills near Cleveland.


Harrison Dillard was born in Cleveland and graduated from East Technical High School. He was a standout in track and field, helping the Scarabs capture three consecutive state championships between 1939 and 1941 and winning the 120-yard high hurdles and 220-yard low hurdles as a senior. He was inspired by another East Tech grad, Jesse Owens.

Known as "Bones" because of his slight frame, Harrison went on to Baldwin-Wallace College and was drafted into the Army after his sophomore season. He then returned to college in 1946 and while there won the NCAA high and low hurdles champ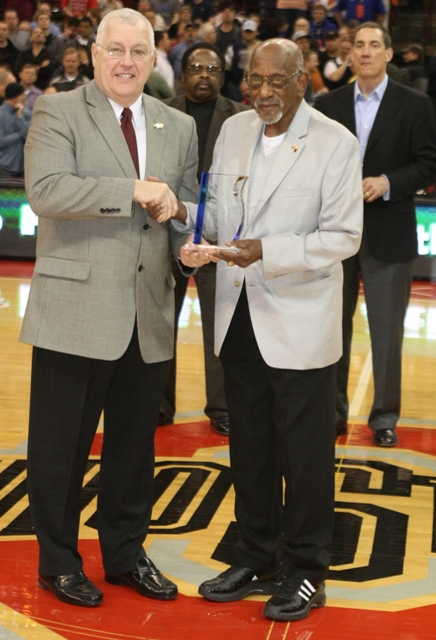 ionships in both 1946 and '47.

At one point he won 82-straight hurdles races and held the World Record in the 120 high hurdles. At the Trials for the 1948 Summer Olympics, Harrison did not qualify in the 110-meter hurdles but he did qualify for the third and final spot in the 100 meters, even though it was not his specialty. At the Olympic Games in London, he tied the World Record in capturing the Gold Medal in the 100 in a photo finish and also was on the Gold Medal-winning 4x100-meter relay team.

Four years later in the 1952 Olympic Games in Helsinki, Dillard also won a pair of Gold Medals, this time in his specialty, the 110 hurdles, and again on the 4x100 relay. He became the first man to ever win Olympic Gold Medals in both the sprints and high hurdles. During his career he also won numerous AAU indoor and outdoor hurdles titles, won the 1953 Sullivan Award as the nation's top amateur athlete and was inducted into the USA Track and
Field Hall of Fame in 1974.

He later worked in public relations for the Cleveland Indians and hosted radio talk shows in Cleveland.

Dillard met his wife Joy while on a tour in Jamaica, and the two were married for 53 years until her death in 2009. Harrison currently lives in the Cleveland area with his daughter Terri and her family.

Madeline Manning Mims was born in Cleveland and as a youngster overcame spinal meningitis to become a highly competitive athlete in several sports. It was track where she began to really excel. In 1965, while a student at Cleveland's John Hay High School, she won her first national title in the 440-yard run at the girls' AAU championships and was named to the U.S. team that competed in meets against the USSR, Poland and West Germany.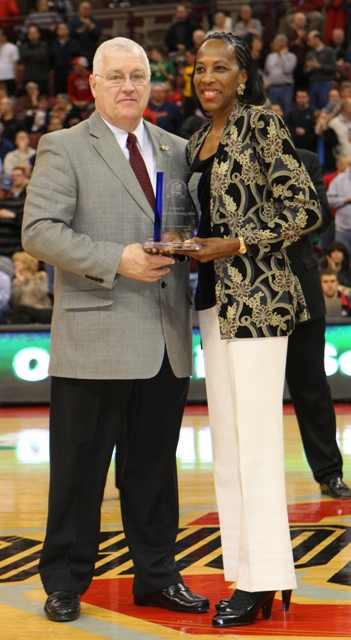 Madeline earned a track scholarship to Tennessee State, which at the time was one of the nation's premier women's programs and the alma mater of Wilma Rudolph. As a sophomore in 1968, she earned a berth on the U.S. Olympic Team that competed in Mexico City and pioneered the 800 meter run for the United States by becoming the first and still the only American woman to earn an Olympic Gold Medal in the event in American, Olympic and
World record time.

Madeline's American record stood for 15 years and she was a member of four Olympic Teams for the United States that spanned a 16-year international career. She was on the 1972 Olympic Team that competed in Munich and was part of the Silver Medal-winning 4x400-meter relay team; she was on the 1976 Olympic Team that participated in Montreal, and in 1980 at age 32 she won the U.S. Olympic Trials but the U.S. boycott of the Moscow Games kept her out of her fourth Olympiad.

Between 1967 and 1980, Madeline won 10 national indoor and outdoor titles, set numerous American records and three world indoor marks. She was inducted in the USA and Olympic Track and Field halls of fame. Since ending her track career, faith has played an important part of Madeline's life. Among her many interests are that of an author, international speaker and contemporary gospel recording artist. She also is founder and president of the United
States Council for Sports Chaplaincy and has been the chaplain for the U.S. teams in the past six Olympiads along with the WNBA's Tulsa Shock. Additionally, she received an Honorary Doctorate of Divinity degree from Oral Roberts University, where she attends and studies in the Masters of Divinity program.

Madeline and her husband, Roderick Mims, reside in Tulsa. She has a son, John, and a daughter, Lana.

Phil Niekro was born in Blaine, Ohio, and was a standout pitcher and basketball player at Bridgeport High School. He turned down a college baseball scholarship to sign out of high school in 1958 with the Milwaukee Braves. He pitched in the minors for five years, spent a year in the military in 1963 and made his Major League debut in 1964.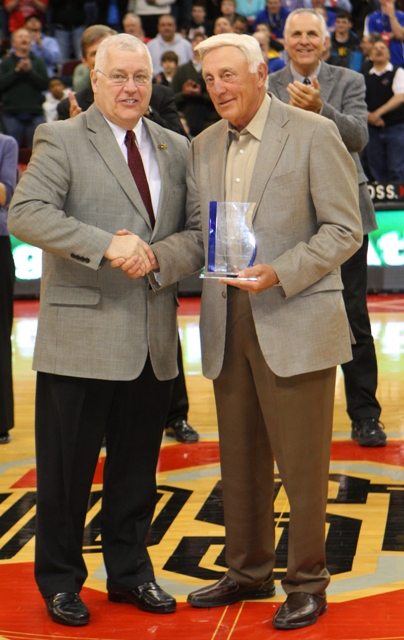 Phil went on to pitch for 24 seasons in the Major Leagues and was 48 when he retired. Relying primarily on a knuckleball that his father taught him, he won 318 games, had a career ERA of 3.35 and logged at least 200 innings in 20 seasons. He threw for the Braves for parts of 21 years and combined with his late brother Joe to win 539 games, the most in the Majors for brothers.

Phil also pitched for the Yankees, Indians and Blue Jays. He won five Gold Gloves and threw a no-hitter against the Padres in 1973. He was elected to the Baseball Hall of Fame in 1997 and is one of only five players whose number has been retired by the Braves.
Phil helped Atlanta win division titles in 1969 and 1982, leading the National League with 23 wins in '69. In 1974 when teammate Hank Aaron eclipsed Babe Ruth's home run record, Phil again led the league with 20 wins. He won his 300th game while pitching for the Yankees on the final day of the 1985 season when he hurled an 8-0 shutout over the Blue Jays, becoming the oldest pitcher at the time to throw at complete game shutout at age 46. He was also
the first pitcher to win his 300th game in a Yankees uniform. Phil and his wife currently reside in Flowery Branch, Ga.

John Havlicek was born in Martins Ferry, grew up in Lansing, Ohio, and, like Phil Niekro, attended Bridgeport High School. He was a standout in football, basketball and baseball.
Following high school, he played for Coach Fred Taylor at Ohio State, and as a three-year starter helped lead the Buckeyes to a 78-6 record; the school's only National Championship in 1960; two national runner-up finishes, and three Big Ten championships. He was a two-time All-Big Ten selection and earned All-America honors as a senior captain.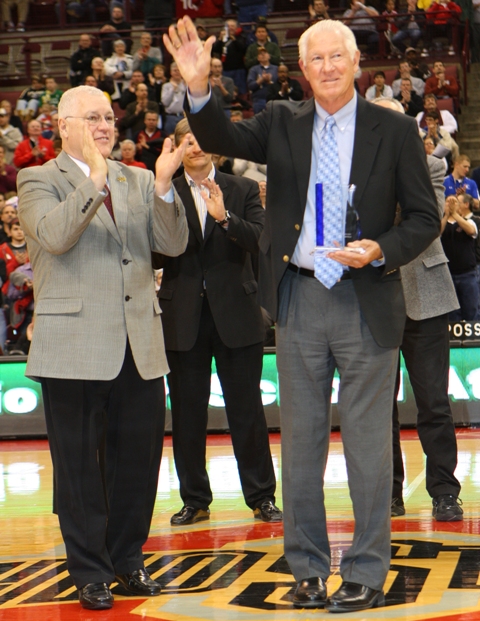 Nicknamed Hondo, a name inspired by the John Wayne movie with the same name, Havlicek was drafted by both the Cleveland Browns and Boston Celtics following college and went to the Browns training camp before being the last player cut. He went on to a distinguished 16-year career with the Celtics, first in the role of sixth man and later as a starter. Few played the game with more intensity and few were better at accepting his role as a defensive stopper.

While in Boston he helped the Celtics win eight NBA championships. When he retired in 1978, he ranked third in the NBA with 26,395 points and first with 1,270 games played. He
is still the Celtics' all-time scoring leader. John played in 13 All-Star Games; was named first or second team All-NBA 11 times; was named to the first or second All-NBA Defensive Team eight times, and was the MVP of the 1974 NBA finals. Selected as one of the NBA's 50 Greatest Players of All Time, he was inducted into the Naismith Memorial Basketball Hall of Fame in 1984. John is retired and he and his wife spend time between his homes in
suburban Boston, Cape Cod and Florida.

### ohsaa.org ###