2013 OHSAA State Cross Country Championships Coverage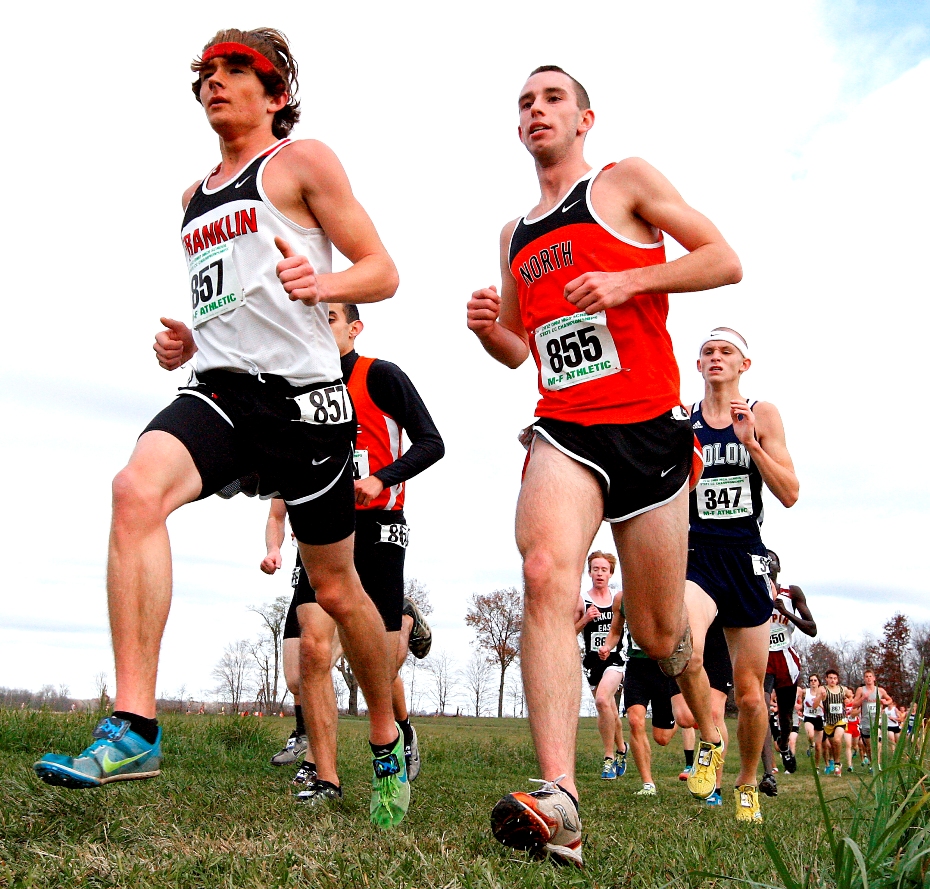 2013 OHSAA Cross Country Championship Live Results - Click to view
Schedule and State Qualifiers
11:00 A.M. Division III Girls
11:45 A.M. Division II Girls
12:30 P.M. Division I Girls
1:30 P.M. Division III Boys
2:15 P.M. Division II Boys
3:00 P.M. Division I Boys
Information for Qualifying Teams / Individuals & Spectators
Follow on Twitter @OHSAASports
---
2013 OHSAA Cross Country State Championships
National Trail Raceway, Hebron
November 2, 2013
Note to Media: Complete Results in AP Format are posted in AP Exchange.
Results:
2013 OHSAA Cross Country State Championships Recap
HEBRON, Ohio – Five schools added another cross country state championship to their trophy case and one school won its first state title at the OHSAA cross country state championships Saturday at National Trail Raceway. The championships, which were the 85th for boys and 36th for girls, were held at National Trail for the third year and mark one of the largest cross country events in the nation with approximately 10,000 fans in attendance.
The girls side featured all repeat team winners, as Liberty Center took home its third-straight Div. III championship, Akron St. Vincent-St. Mary won its fifth-straight title and Mason won back-to-back crowns.
For the boys, McDonald reclaimed the Div. III state title (seventh overall), Div. II Defiance earned its first state championship, and Cincinnati St. Xavier won its second-straight title (fifth overall). St. Xavier's team point total of 46 point is the second-best in Div. I history, just two points shy of the Div. I record for lowest team score of 44 points set by Kent Roosevelt in 1980.
The day began with the Div. III girls race, where last year's runner-up, Liberty Center junior Brittany Atkinson, claimed the top spot in 18:31.45. That performance, along with her teammates Paige Chamberlain (ninth place), Jenna Vollmar (22nd place) and Olivia Kundo (30th place), helped lead the Tigers to their third straight championship and third overall, bettering Gates Mills Gilmour Academy 98-110.
In Div. II girls, last year's fourth-place finisher, Wauseon junior Taylor Vernot, crossed the finish line first in 18:04.40. Two SVSM runners finished in the top 10 to pace the Irish to their fifth-straight title, led by sophomore Rachel Iacofano (sixth) and senior Julia Mendiola (10th). SVSM were 18 points better than runner-up Bay Village Bay, 101-119.
After placing third last year in the Div. I race, Cincinnati St. Ursula Academy junior Annie Heffernan rose to the top Saturday, winning in a time of 18:13.90. A pair of Mason underclassmen led the Comets to the winners podium, as sophomore Leah Ford and freshman Ellie Brush finished 14th and 15th, respectively. The Comets held off runner-up Beavercreak, 76-107.
In the Div. III boys race, McDonald senior Bobby Johnson was the top returning runner in the field (fifth last year), and he pulled away from the pack to win in a time of 15:45.48. Classmate Allan Coviello placed 24th to help lead the Blue Devils back to the title for the seventh time, which trailed only Caldwell (nine) for most cross country titles in OHSAA history. In the closest team competition of the day, McDonald totaled 94 points to top runner-up Maplewood, 94-103.
Thornville Sheridan senior Matt Bromley was Div. II's top returner (third last year) and he took over the top spot Saturday in a time of 16:04.58. After finishing second overall last year, three Defiance runners finished in the top 20 to lead the Bulldogs to their first state title. Senior Alex Barrientos was 13th, senior Nate Wichman was 16th and senior Garrett Wiles was 20th as Defiance was 33 points better than runner-up Tipp City Tippecanoe, 107-140.
While the Div. I boys race was dominated by St. Xavier runners, it was Boardman senior Mark Hadley that finished first overall in 15:10.63. Five St. Xavier runners finished in the top 20, led by seniors Michael Hall and Evan Stifel, who were fourth and fifth, respectively. Behind the Bombers' 46 points, Dublin Jerome finished second with 105.
---
2013 OHSAA Cross Country State Championships Preview
Venerable National Trail Raceway in Hebron, Ohio, located about 25 miles east of Columbus, will host the OHSAA cross country state championships Saturday for the third-consecutive year. With a total seating capacity of 9,500 in its two grandstands, a three-story building with suites and ample parking, the site has already proven to be an excellent choice since the OHSAA left longtime host site Scioto Downs.
The championships are now in their 85th year for boys and 36th year for girls, making it one of the OHSAA's longest tenured state championships. With crowds averaging almost 10,000 every year, it is one of the largest cross country events in the nation.
TRAVEL NOTE
If traveling from the west, take Exit 122 off I-70, turn left onto Outville Road (State Route 158), then in one mile turn right onto National Road. (Note that Exit 122 Outville Road/State Route 158 is closed). If you are coming from the east, take Exit 126 off I-70, turn right onto Lancaster Road (State Route 37), then in one mile turn left onto National Road. Note that school transportation vehicles coming from the west should proceed to exit 126 so that they park in Lot A for participants.
Division I Girls
Defending state champion Mason is back, but with only two girls who were a part of the Comets' dominating 2012 state championship team (42 points), which marked their first state title. On their heels will be last year's state runner-up, Centerville (142 points), which has three runners back. Defending individual champion Jacquelyn Crow, a senior from Lebanon, is back after winning in 2012. Also back from last year's Top 7 is Annie Heffernam, now a junior, from Cin. St. Ursula Academy.
Division II Girls
Four-time defending state champion Akron St. Vincent-St. Mary is back with four of the runners from the 2012 state championships (53 points). 2012 runner-up Lexington (74 points) has three runners back. Last year, two freshmen crossed the finish line first overall, including Mary Kate Vaughn from Dayton Oakwood first and SVSM's Rachel Iacofano, who are both back in the field.
Division III Girls
Five girls from Liberty Center's 2012 state championship team are back in what was a tightly-contested team competition. The two-time defending state champion Tigers, with 101 points, edged runner-up Coldwater (116 points), which has four runners back. Those two squads also produced the first and second-place finishers overall, as Coldwater's Sarah Kanney, now a junior, took first and Liberty Center's Brittany Atkinson, also a junior, took second.
Division I Boys
Cincinnati St. Xavier had five seniors on its 2012 state championship team (71 points), which marked the schools' fourth title, but the Bombers are back again and were ranked No. 1 in the pre-regionals coaches poll. Runner-up Mason (123 points) has three boys back from 2012. Overall, 10 of the first 14 individuals to cross the finish line last year were seniors, including the first three runners, so the individual race is wide open. Chardon senior Nick Elswick is the top returner after taking fourth last year.
Division II Boys
Peninsula Woodridge has won six of the last seven Division II state championships, including last year, and is back with five seniors and two juniors on its squad. It was a close team race last year, though, as Woodridge (83 points) held off Defiance (109 points), which is also back. Thornville Sheridan senior Matt Bromley and Cuyahoga Falls CVCA senior Ben Bockoven are the top returners. They finished third and fifth last year, respectively.
Division III Boys
Attica Seneca East took home its first state championship last year in a close team race against six-time state champ McDonald (101 to 107). Both squads are back with many returning runners from 2012. McDonald senior Bobby Johnson was the only non-senior to finish in the Top 12 last year and is back aiming to lead the pack.
---

Directions, Hotels, Tickets, Gear, Programs, DVDs, Photos


Impact Action Sports Photography is the official photographer of the OHSAA. A parent request form is available to fill in detailed information in helping photographers satisfy requests in covering specific athletes. Click here to fill out a parent request form.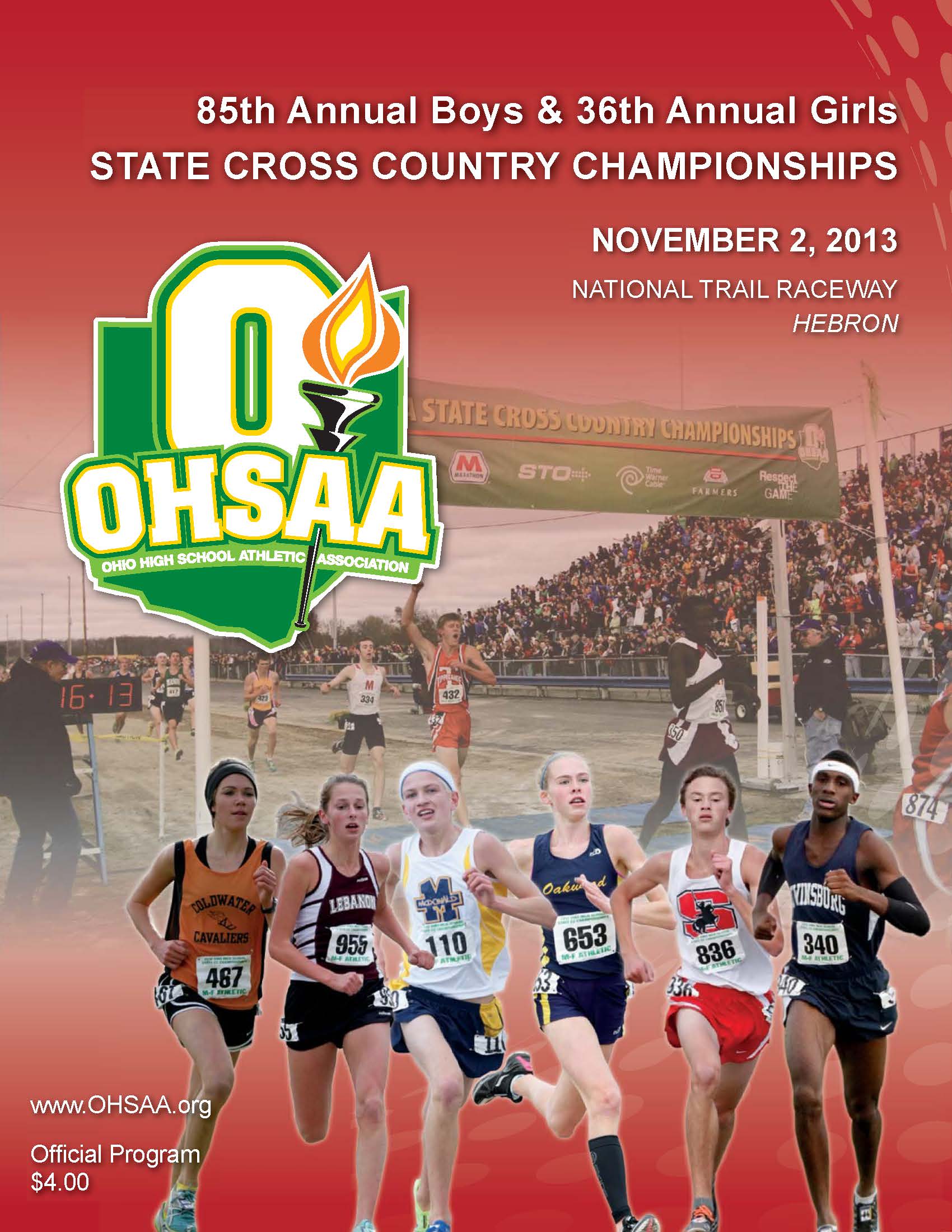 Purchase your official OHSAA souvenir program at National Trail Raceway or click here.
### OHSAA ###