2012 State Tournament Recap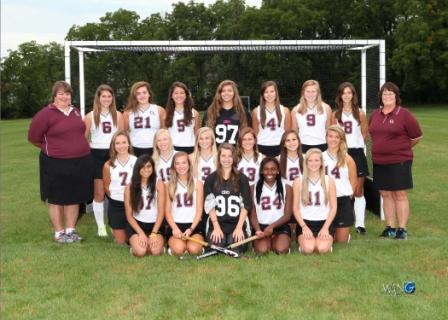 Gahanna Columbus Academy - 2012 State Champions
Coach Anne Horton


2012 OHSAA Field Hockey State Tournament
November 2-3, Upper Arlington High School
Semifinal #1
Gahanna Columbus Academy 4, Cincinnati Ursuline Academy 0

UPPER ARLINGTON, Ohio – Gahanna Columbus Academy defeated Cincinnati Ursuline Academy 4-0 in the first semifinal game of the 2012 OHSAA state field hockey tournament that began Friday at Upper Arlington High School.

Columbus Academy (18-0-1) will play in the championship game Saturday at 1:00 p.m. against the winner of the Columbus Bishop Watterson and Shaker Heights Hathaway Brown game. The Vikings are looking to win their ninth OHSAA field hockey state championship, with their most recent title coming in 2006. Ursuline Academy, which was making its first state tournament appearance since 2001, finished the year 17-1-1.

CA - 3-1—4
UA - 0-0—0

Scoring:
CA- Paige Berliner (assist Courtney Deena) 23:56, 1st half
CA- Alyssa Edwards (assist Charlotte Vaziri) 22:26, 1st half
CA- Paige Berliner (assist Courtney Gittins) 16:38, 1st half
CA- Alyssa Edwards (assist Hana Sinno) 23:28, 2nd half

Saves:
CA- 0 (Sarah Guendert)
UA- 6 (Emily Lotterer)

Shots on Goal:
CA- 8
UA- 2

Penalty Corners:
CA- 2
UA- 1
### OHSAA ###
---
Semifinal #2
Columbus Bishop Watterson 1, Shaker Heights Hathaway Brown 0

UPPER ARLINGTON, Ohio – Columbus Bishop Watterson defeated Shaker Heights Hathaway Brown 1-0 in the second semifinal game of the 2012 OHSAA state field hockey tournament that began Friday at Upper Arlington High School.

Bishop Watterson will play in the championship game Saturday against Gahanna Columbus Academy who beat Cincinnati Ursuline Academy in the first semifinal game of the day. The Eagles, which have nine state tournament appearances, are looking to win their first title since 2009 and third overall. Hathaway Brown, the 2011 runner-up, finishes the year 15-4-1 in its 14th state tournament appearance

BW - 1-0 —1
HB - 0-0 — 0

Scoring:
BW- Emily Engert (assist Stephanie Polletta) 28:46, 2nd half

Saves:
BW- 3 (Bridget Wagy)
HB- 2 (Brenna Scully)

Shots on Goal:
BW- 2
HB- 4

Penalty Corners:
BW- 8
HB- 4
### OHSAA ###
---
State Championship Game
Gahanna Columbus Academy 2, Columbus Bishop Watterson 1 (2 OT)

UPPER ARLINGTON, Ohio – In double overtime, Gahanna Columbus Academy freshman Hana Sinno scored the game-winning goal to give the Vikings a 2-1 win over Columbus Bishop Watteron Saturday in the 2012 OHSAA field hockey state championship game at Upper Arlington High School. Academy's Charlotte Vaziri (Jr.) scored the game's first goal with 4:03 remaining in the first half, but the Vikings were unable to hold off the Eagles as Alessandra Margello (Sr.) tied the game with 9:01 left in regulation.
The state title is the ninth for Columbus Academy (19-0-1), which has made the state tournament every year since 2008. The Vikings now have a five title lead over Kettering Fairmont (4) for the most field hockey state titles. Academy posted 12 shots on goal compared to five for Watterson, and also led in penalty corners 12-8.
Academy also defeated Watterson during the regular-season, 1-0, and posted shutout victories in 12 of its 20 victories this season.

Bishop Watterson, which had previously won state titles in 2009, 2005 and 1995, finished the season 19-2-0.
CA - 1-0-0-1 —2
BW - 0-1-0-0 —1

Scoring:
CA- Charlotte Vaziri (assist Brie Sahl, Grace Geiger) 4:03, 1st half
BW- Alessandra Margello (assist Olivia Pardi), 2nd half
CA- Hana Sinno (assist Charlotte Vaziri) 6:05, 2nd OT

Saves:
CA- 4 (Sarah Guendert)
BW- 4 (Bridget Wagy)

Shots on Goal:
CA- 12
BW- 5

Penalty Corners:
CA- 12
BW- 8
### OHSAA ###