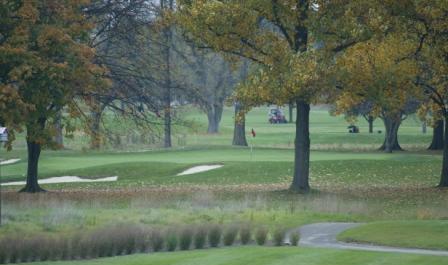 Boys Division II & III and Girls Division II State Golf Championships
COLUMBUS, Ohio – The 43rd annual boys Division II and III and 5th annual girls Division II state championships begin October 12 with loads of talent returning to NorthStar Golf Resort in Sunbury and the Scarlet & Gray courses at The Ohio State Golf Club in Columbus.
The boys Division II tournament returns to the Scarlet Course (Par 71, approximately 7,115 yards) after playing at NorthStar last year. It was there that Canton Central Catholic earned the runners-up trophy in 2011. The Crusaders look to improve upon that finish after last year's champion Springfield Kenton Ridge did not qualify for the state tournament. Central Catholic will have to do so against perennial contenders Kettering Archbishop Alter (four state titles) and Dayton Oakwood (three state titles), which will also be making the trip to Columbus. The top individual returner is Columbus Bishop Watterson senior Jon Ransone, who finished eighth in 2011.
Reigning state champion Columbus Wellington School returns to the state tournament in 2012 but will have to defend its title on a different course. The boys Division III tournament will be contested at NorthStar (Par 72, approximately 7,001 yards). Wellington's top scorer from 2011, senior Jon Taylor, anchors the Jaguars in their bid for back-to-back state titles. 2011 runner-up Lima Central Catholic has also returned to central Ohio in an attempt to unseat Wellington as champions. The Thunderbirds are led by senior Josh Klaus, who finished fifth in last year's tournament. Gates Mills Gilmour Academy senior Andrew Bieber claimed the Division III individual honors last year at Ohio State and returns in 2012 looking to become only the 14th male golfer in OHSAA state golf tournament history to become a two-time medalist. If he's able to do so, it would mark the first time individuals from the same school have accomplished the feat. Bieber's former teammate Alex Andrews became a two-time medalist for the Lancers during the 2009 and 2010 state tournaments.
For the fifth time in Division II, the best female golfers in the state will tee it up at the Gray Course (Par 70, approximately 5,800 yards) in search of a coveted state golf championship. The 2011 team champion, Dayton Chaminade Julienne, will be looking for back-to-back titles and a third championship overall as well as the opportunity to move into a tie with three other schools for the lead for all-time team championships. Last year's individual champion, Haylee Harford from Warren John F. Kennedy, did not qualify for the tournament this year, opening the door for Columbus Wellington School junior Annie Miller, Elmore Woodmore senior Mikayla Baer and Dayton Miami Valley School junior Sarah Kolodzik. All three finished within the top five individually in the 2011 tournament.
The 2012 boys Division II & III and girls Division II golf tournaments run October 12-13, with play beginning at 9:00 a.m. on both days.
Contact: Paul Seiter, Sports Information Assistant, [email protected]

### OHSAA ###