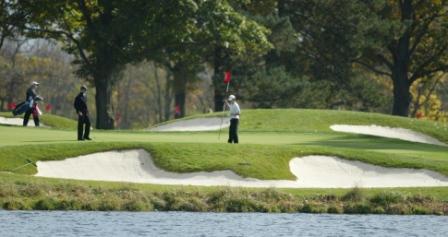 Boys and Girls Division I State Golf Championships

COLUMBUS, Ohio – The 87th annual boys and 20th annual girls Division I golf tournaments tee off beginning October 19 at the Scarlet & Gray Courses at The Ohio State Golf Club in Columbus.
The 2011 tournament featured Dublin Jerome winning both the boys and girls tournament. The Celtics return to both tournaments looking for back-to-back state championships. The Jerome boys have four team state championships, while the girls have won two. Jerome is the only school to have swept both the boys and girls tournaments in 19 years of play for both tournaments. The Celtics have accomplished the feat twice, in 2005 and 2011.
In the boys tournament Ian Holt returns to defend his individual medalist performance from a year ago at the Scarlet course (Par 71, approximately 7,115 yards). The Stow-Munroe Falls junior shot a 76 to qualify for the state tournament as an individual from the Northeast District. Among those looking to unseat him of the top spot are Centerville senior Caleb Wolters, Medina senior Patrick Luth and Jerome senior Mert Selamet and junior Brady Bohl, all of whom finished in the top 15 in 2011.
The girls tournament medalist returns as well to the Gray Course (Par 70, approximately 5,800 yards) in Danielle Nicholson, a sophomore from Geneva. Nicholson shot a 75 to qualify as an individual from the Northeast District. It will be no easy task for Nicholson to repeat as seven golfers from the top 15 in 2011 make their way back to Columbus in 2012, including Rocky River Magnificat junior Ali Nageotte (third), Massillon Jackson junior Cassie Pantelas (tie-six) and Medina Highland senior Jessica Porvasnik (tie-six).
The 2012 boys and girls Division I golf tournaments run October 19-20, with play beginning at 9:00 a.m. on both days.
Contact: Paul Seiter, Sports Information Assistant, [email protected]

### OHSAA ###