2013 OHSAA State Golf Tournament Coverage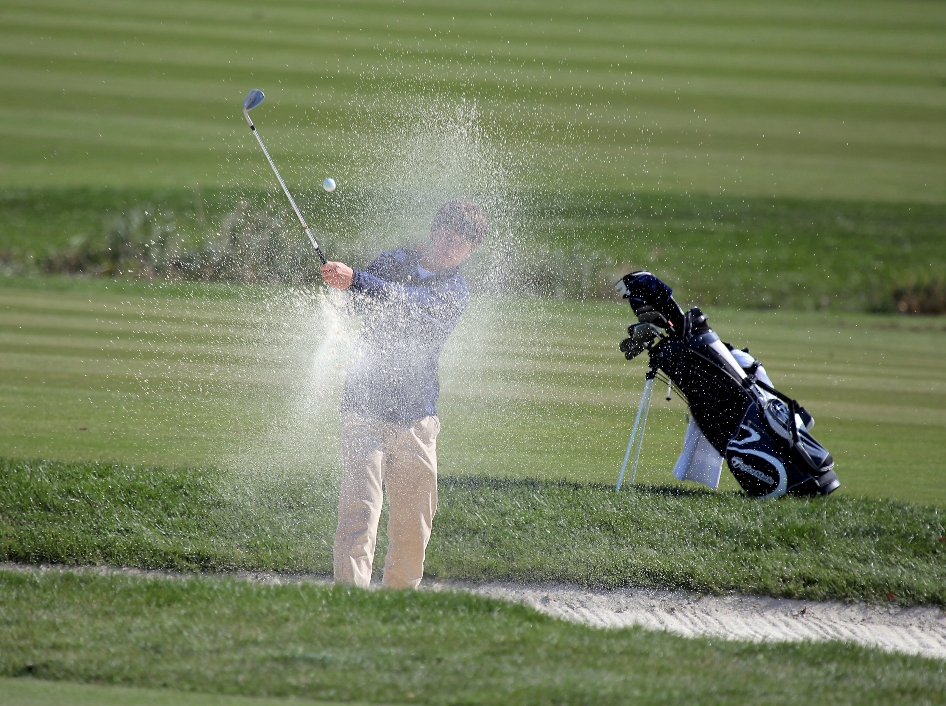 Boys State Golf Team Results
Boys State Golf Individual Results and Full Team Results
Girls State Golf Team Results
Girls State Golf Individual Results and Full Team Results
##########
Boys State Qualifiers
Division I | Division II | Division III
Boys Tee Times
Division I | Division II | Division III

Girls State Qualifiers
Girls Tee Times
Division I | Division II
---
2013 OHSAA Girls and Boys Division I State Golf Tournaments
October 18-19
The Ohio State University, Columbus
Girls: Gray Golf Course – Par 70, Approx. 5,560 yards
Boys: Scarlet Golf Course, Par 71 – Approx. 7,115 yards
Jerome Girls and Boys Both Claim Third-Straight Titles
COLUMBUS, Ohio – On a rain-soaked, chilly day on the Scarlet and Gray Courses at The Ohio State University Golf Club, Dublin Jerome accomplished their third-straight sweep of the Ohio High School Athletic Association girls and boys Division I golf state tournaments.
Jerome is the only school in OHSAA history to win the girls and boys golf state tournaments in the same season, and the Celtics have now done it four times, including each of the last three seasons (and in 2005). The Jerome girls now own four state championships, which stands as the most since the OHSAA adopted girls golf in 1993. The Celtics had been tied with three other schools with three titles.
On Gray (Par 70, 5311 yards), the Jerome girls (313-309-622) trailed Rocky River Magnificat by three strokes after the first round Friday, but shot five shots better on Saturday despite the rain and cold to post a 10-stroke win over runner-up Massillon Jackson (323-309-632). Magnificat (310-330-640) finished third.
Jerome senior Lexie Toth (73-78-151) and junior Sybil Robinson (80-75-155) led the way for the Celtics. Columbus Bishop Watterson junior Erin Harper claimed medalist honors with a 71-74-145.
On Scarlet (Par 71, 7115 yards), the Jerome boys (319-322-641) trailed Cincinnati St. Xavier by one stroke after the first round Friday, but came back in the tough conditions to top runner-up Pickerington North (328-318-646) by five strokes. St. Xavier finished third (318-329-647). The Jerome boys now own six state titles, which ties them for second-most all time with Gahanna Columbus Academy. Upper Arlington's 17 state titles is tops.
Jerome senior Brady Bohl led the Celtics with a 79-78-157. Sophomores Adam Stephens (79-81-160) and Grant Lewis (79-82-161) rounded out the top three. Dublin Coffman senior Nick Sparling repeated as individual medalist with a 70-76-146. He is the OHSAA's 16th multiple medalist and first from Coffman.
---
2013 OHSAA Girls Division II State Golf Tournament
October 11-12
The Ohio State University, Columbus
Gray Golf Course, Par 70 – 5,560 yards
Gates Mills Hawken Secures First State Title

COLUMBUS, Ohio – The 2013 OHSAA girls Division II state golf tournament concluded Saturday afternoon at The Ohio State University Gray Course (Par 70, 5,560 yards). Gates Mills Hawken took home its school's first state title, besting runner-up Dover by 11 strokes with a two-day score of 339-329-668.

After play concluded on Friday, Hawken was five strokes behind the leader, but came back with an impressive day two when each of the five players shot the same as day one or improved their score.

The Hawks were led by sophomore Isabella Joseph (78-78-156) and senior Ali Gole (84-82-166).

Dover also regrouped after day one, improving its team score by 21 strokes (350-329-679). Dayton Chaminade Julienne (680), Huron (706) and Tipp City Tippecanoe (711) rounded out the top five.

Junior Makayla Dull from Kansas Lakota improved her 2012 score by 14 strokes and shot an impressive 69-73-142 to bring home medalist honors. Senior Lindsey Murray from Tipp City Tippecanoe finished 70-77-147 to finish as the runner-up medalist.

---

2013 OHSAA Boys Division II State Golf Tournament
October 11-12
NorthStar Golf Club, Sunbury
Par 72 – 6,796 yards
Dayton Oakwood Wins Second-Consecutive and Fifth Overall Division II Golf State Title

Sunbury, Ohio – It was a new course and a new year for the OHSAA Div. II boys golf state tournament, but it didn't matter to defending state champion Dayton Oakwood, which won its second-consecutive state championship by 31 strokes over runner-up East Liverpool Saturday at NorthStar Golf Club in Sunbury.

Oakwood (303-314-617) has now won four championships in the past five years, also capturing titles in 2009, 2010. It is their fifth championship overall having also won the title in 1985, and Oakwood is now one of just six schools across all divisions with at least five state golf championships.

Oakwood had the lowest team score both days of the tournament. The 617 is the third-best team score in Division II tournament history and is the lowest team score in the Division II tournament since 2007.

Oakwood's Tripp French won individual medalist honors with a two-over-par score of 146. He carded identical rounds of one-over-par 73's over the tournament's two days, edging Cincinnati Mariemont's Will Grimmer by a single shot for the top spot. French's victory broke a string of four consecutive medalists from Gates Mills Gilmour Academy.

French is the fifth individual state champion in Dayton Oakwood history, joining Jim Reston (1927), Bob Servis (1933), Tom Walters (1977) and Steve Lohmeyer (1999) in earning medalist recognition.

French's two-day total of 146 was the third-best score in Division II tournament history. Grimmer's runner-up score of 147 was the fourth-best score.

East Liverpool's Blake Prince had the tournament's low round, carding an even-par 72 on the tournament's second day.

---
2013 OHSAA Boys Division III State Golf Tournament
October 11-12
The Ohio State University, Columbus
Scarlet Golf Course, Par 71 – 7,115 yards
Toledo Ottawa Hills Holds Off Gahanna Columbus Academy To Win Third State Title

Columbus, Ohio – The 2013 OHSAA boys Division III state golf tournament concluded Saturday afternoon at The Ohio State University Scarlet Course (Par 71, 7,115 yards).

Ottawa Hills improved its day one score by 11 strokes to finish 329-318-647 to top the field of competitors, which included returning state qualifying teams in Gahanna Columbus Academy (659), Ashland Crestview (665) and Columbus Wellington School (667) to capture its third state title (previous titles in 1974 and 1982).

Runner-up medalist senior Ben Silverman (75-72-147) and sophomore Michael Denner (84-79-163) led Ottawa Hills. Ben's father, Judd Silverman, was the 1973 medalist from Ottawa Hills on the same course.

Gahanna Columbus Academy led by six strokes after day one. Junior Carter Kistler (74-79-153) and senior Shabaz Khan (80-86-166) led Academy to the runner up finish.

Junior Jeg Coughlin from Powell Village Academy took home the medalist honors, shooting 73-71-144, which marks the best Division III state tournament score on Scarlet. The previous best two-day total in the Division III state tournament on Scarlet was 146 by Gates Mills Gilmour Academy's Mike Trivisonno in 2003.

---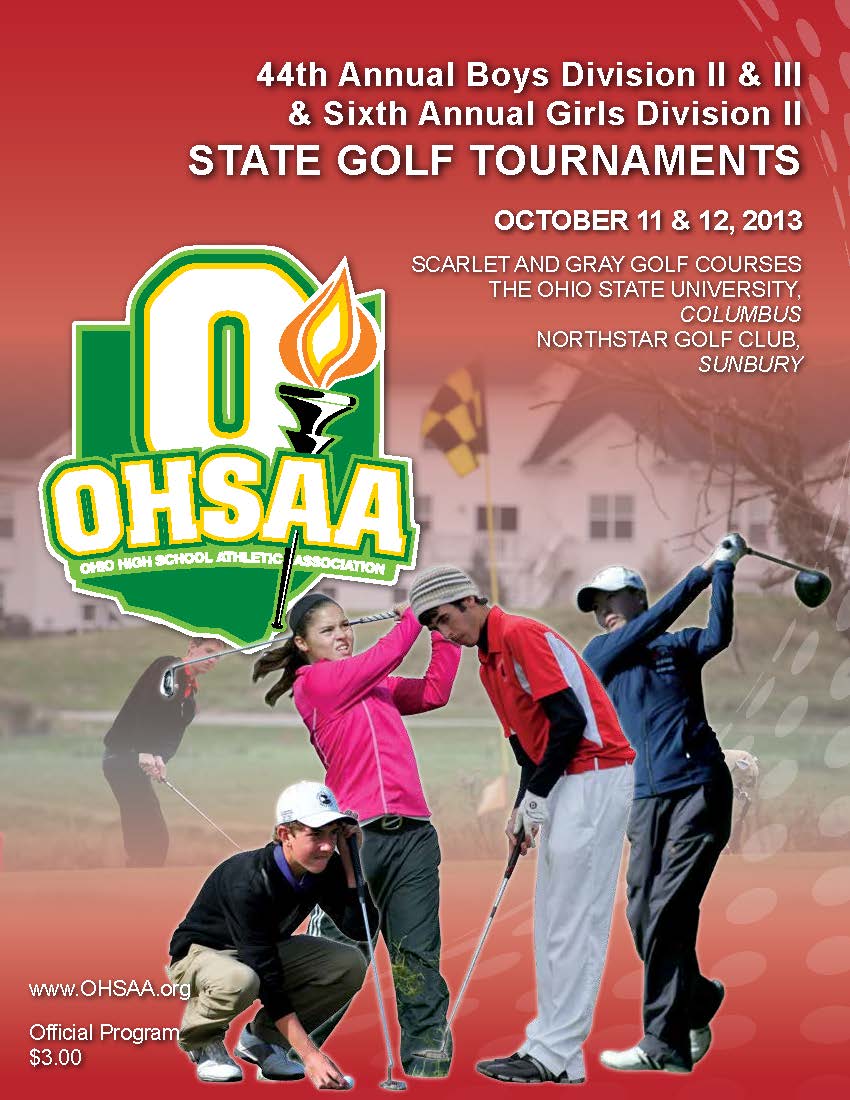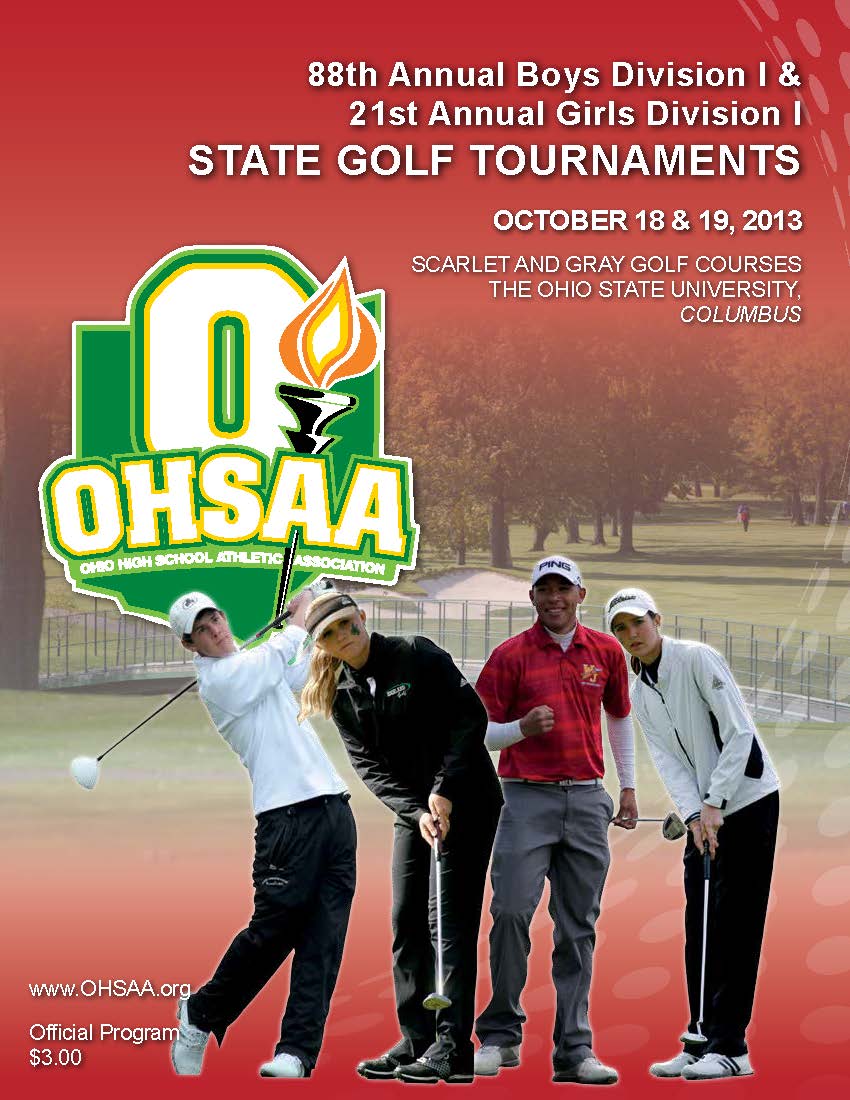 Purchase your official OHSAA souvenir program at the golf course or click here.
Follow on Twitter @OHSAASports

Directions, Hotels, Tickets, Gear, Programs, DVDs, Photos
2013 OHSAA Division I Golf State Tournament Preview

The Scarlet and Gray Golf Courses at The Ohio State University Golf Club welcome back the OHSAA boys and girls Division I golf state tournaments this weekend. Play begins at 9 a.m. Friday and Saturday for the 36-hole event.

Cool temperatures are expected on the courses, which have hosted the tournament since 1938. The Scarlet is par 71 and 7115 yards, while the Gray is par 70 and 5,560 yards.

Only one school in OHSAA history has won the girls and boys state tournaments in the same season, and that school – Dublin Jerome – has done it three times, including the last two years. Jerome's girls and boys teams, which both won their state titles by one stroke last year, are back in the 2013 field. Two boys are back for defending state champ Jerome, which won its district tournament last week, while 2012 state runner-up Centerville and third-place finisher Dublin Coffman are not in the field. The top two finishers in the medalist race are back from a year ago, including 2012 individual state champ Nick Sparling from Dublin Coffman and runner-up Chase Johnson from Cuyahoga Falls Walsh Jesuit.

On the girls side, the top five teams from 2012 all return to set up what should be a very close team race. Four girls are back from Jerome's 2012 state championship team, while three are back for runner-up Medina Highland, although gone is their leader and 2012 individual medalist Jessica Porvasnik. Aiming to rise to the top spot are 2012 third-place finisher Massillon Jackson, with four golfers back, fourth-place finisher Dublin Coffman, with five back, and fifth-place Mason, with three back. Top individual scorers back from last year include medalist runner-up Nikolette Schroeder from Avon Lake and fourth-place finisher Lexi Toth from Jerome.


2013 OHSAA Div. II and III Golf State Tournament Preview
The 44th annual boys Division II and III and Sixth annual girls Division II state championships return to NorthStar Golf Club in Sunbury and the Scarlet and Gray courses at The Ohio State Golf Club in Columbus this weekend (Oct. 11-12).
The boys Division II tournament heads to NorthStar (Par 72, approximately 7,001 yards) after playing at Scarlet in 2012. Dayton Oakwood looks to defend its 2012 state championship this year after placing first in the Southwest District with a score of 292. Canton Central Catholic also returns to the state tournament after finishing as state runner-up in 2012. The 2012 top individual, Eaton sophomore Cameron Willis, returns in 2013 looking to defend his medalist title.
The Scarlet Course (Par 71, approximately 7,115 yards) will host to the Boys Division III Championship. Last year at NorthStar, Ashland Crestview captured its first state title in boys golf and will look to continue their success after qualifying in 2013. The road will not be easy, though, as the other top four teams from 2012 all return, including 2012 runner-up Columbus Wellington School, third-place Gahanna Columbus Academy, fourth-place Toledo Ottawa Hills and fifth-place Lima Central Catholic. Meanwhile, Grove City Christian senior Cameron Michalak, who tied for second overall last year with Crestview's Josh Brooks, is back after a low-score district qualifying round of 73.
The OSU Gray Course (Par 70, approximately 5,800 yards) welcomes back the Division II ladies, where a new team and individual state champion will be crowned. Defending state champion Sandusky Perkins and its star medalist, Maddie Mullins, who was a senior last year, are not in the 2013 state tournament field. Defending state runner-up Dayton Chaminade Julienne is back, as is 2012 fourth-place finisher Sugarcreek Garaway. Dayton Miami Valley School senior Sarah Kolodzik is back after finishing second in the medalist race behind Mullins last year.
### OHSAA ###