2013 OHSAA Individual Wrestling
State Tournament Coverage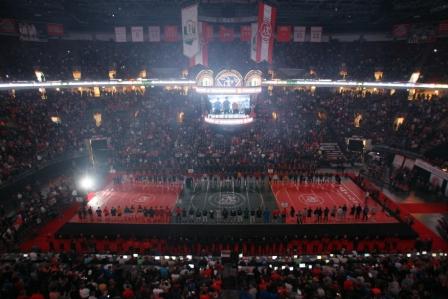 Click photo above for gallery of 2012 individual state tournament.

STATE TOURNAMENT
State Tournament Schedule
State Tournament Participants, Brackets & Pairings
State Tournament Preview (By Brian Brakeman)
2013 OHSAA Individual Wrestling State Tournament
Value City Arena at the Jerome Schottenstein Center
The Ohio State University, Columbus
February 28 - March 2, 2013
Heil, Jordan, Tomasello Join Four-Time Champion Club
Lakewood St. Edward, St. Paris Graham Local and Troy Christian top team standings

COLUMBUS, Ohio – Lakewood St. Edward senior Dean Heil, St. Paris Graham Local senior Bo Jordan and Cuyahoga Falls Cuyahoga Valley Christian Academy senior Nathan Tomasello all claimed their fourth individual state title, joining 22 previous wrestlers in the elite four-time champion club Saturday evening at the 2013 OHSAA individual wrestling state tournament at the Jerome Schottenstein Center in Columbus.

The championship session that began with the Parade of Champions drew 13,820 fans. The three-day tournament attendance was 58,047.

Five individuals became three-time state champions in 2013. In Division I, Solon seniors Brandon Thompson and Anthony Collica and St. Edward senior Domenic Abounader finish their high school careers with their third state championship. In Division II, Graham junior Micah Jordan and in Division III Miamisburg Dayton Christian Jacob Danishek each won their third individual title and will aim to claim a fourth title in 2014.

Three other individuals repeated as state champions, including Massillon Perry senior JoJo Tayse, Lexington senior Josh Lehner and Troy Christian senior B.J. Toal.

This year marked the first year for the OHSAA team wrestling state tournament, where team champions were also crowned in three divisions February 9 at St. John Arena in Columbus. Two of those three division winners claimed top team honors during the individual tournament.

St. Edward scored 113.0 points in Division I and Graham 155.5 points in Division II en route to claiming top honors in the individual tournament along with their team titles. Division I and II runners-up were Massillon Perry (100.0) and Perry (83.5), respectively. Troy Christian finished with 91.5 points to earn the top spot for Division III in the individual tournament. Runner-up Delta, with 82.5 points, won the team wrestling tournament title.

The Ohio Wrestling Coaches Association named its most valuable wrestlers of the meet. Those individuals were Dean Heil in Division I, Bo Jordan in Division II and Jacob Danishek in Division III.


Live Audio Coverage of State Tournament
Ohio Wrestling Network - www.ohiowrestling.net
Archbold WMTR Radio - www.961wmtr.com
Urichsville WBTC Radio - www.wbtclive.com
Delayed Video Coverage of State Tournament
Time Warner Cable - DVDs available from OHSAA
Archbold RTEC
Columbus Public Access TV (Matside with Bob Dieli)
Defiance Community TV
GOhioCasts
Lima WTLW-WOSN
Nelsonville TV
Wauseon INTV
Waycross Community Media
Western Reserve Cable 9

2012-13 Ohio High School Wrestling Coaches Association State Poll
Dec. 12 | Dec. 19 | Dec. 26 | Jan. 2 | Jan. 9 | Jan. 16 | Jan. 23 | Feb. 6 (Final)


Follow on Twitter @OHSAASports

Directions, Hotels, Tickets, Gear, Programs, DVDs, Photos


Impact Action Sports Photography is the official photographer of the OHSAA. A parent request form is available to fill in detailed information in helping photographers satisfy requests in covering specific athletes. Click here to fill out a parent request form.
###OHSAA###