2014 OHSAA Individual Wrestling
State Tournament Coverage
2014 OHSAA Individual Wrestling State Tournament
The Jerome Schottenstein Center
The Ohio State University, Columbus
February 27, 28 & March 1, 2014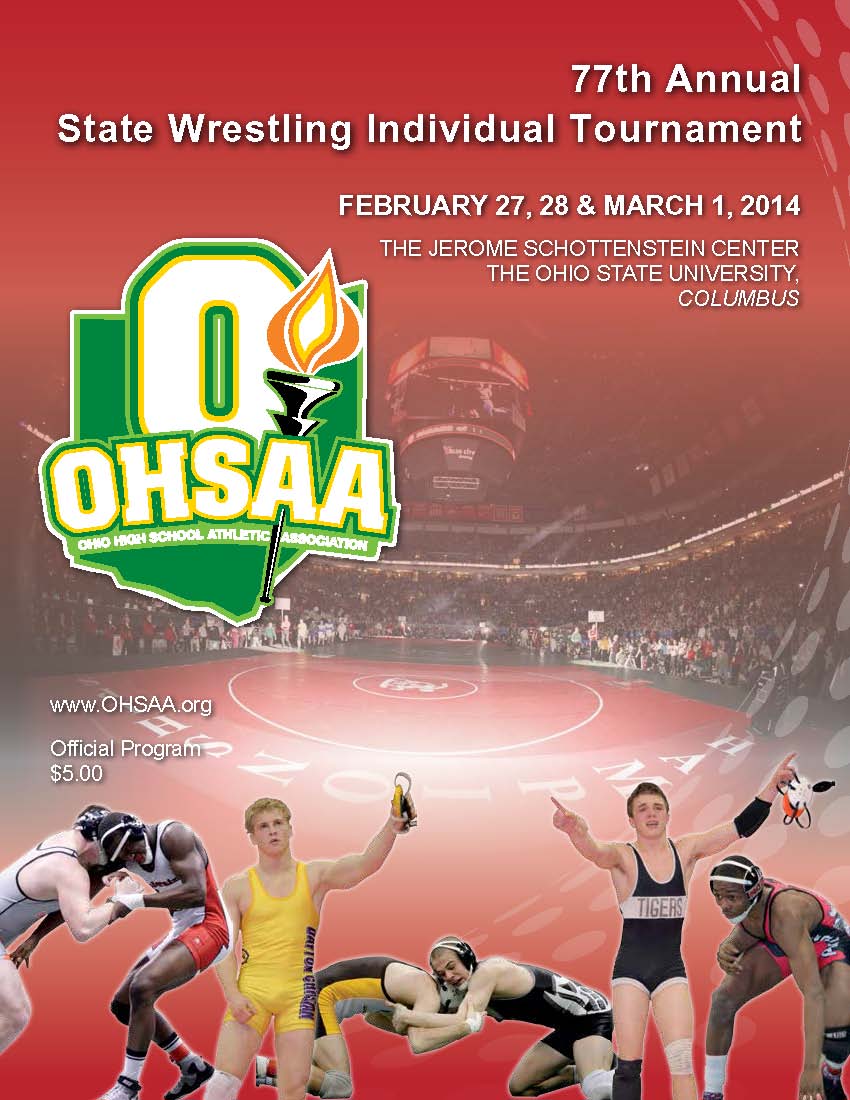 STATE TOURNAMENT CENTRAL
State Tournament Schedule, Participants, Brackets & Pairings
State Tournament Preview
Jordan and Danishek Become 26th and 27th Four-Time Champion Respectively
Massillon Perry, St. Paris Graham Local and Delta top team standings

COLUMBUS, Ohio – St. Paris Graham Local senior Micah Jordan and Miamisburg Dayton Christian senior Jacob Danishek both claimed their fourth individual state title, joining 25 previous wrestlers in the elite four-time champion club Saturday evening at the 2014 OHSAA individual wrestling state tournament at the Jerome Schottenstein Center in Columbus.

The championship session Saturday night that began with the Parade of Champions drew 12,767 fans. The three-day tournament attendance was 56,195.

Massillon Perry scored 185.0 points in Division I, Graham totaled 185.5 points in Division II and Delta finished with 141.0 points in Division III en route to claiming top team honors in the individual tournament. Graham won its 14th consecutive team title and 16th overall. The 14 consecutive team titles is a new OHSAA record (2001-2014) at the individual wrestling tournament (Lakewood St. Edward had won 13 consecutive 1997-2009)

Kyle Lawson from St. Paris Graham Local and Kaleb Romero from Mechanicsburg were the only freshmen to win state titles in 2014. Lawson competed in the 138 Ib. weight class in Division II and Romero competed in the 138 Ib. weight class in Division III.

This year marked the second year for the OHSAA team wrestling state tournament, where team champions were also crowned in three divisions February 8 at St. John Arena in Columbus. All three division winners that won the team state tournament also claimed top team honors during the individual tournament.

The Ohio Wrestling Coaches Association named its most valuable wrestlers of the meet. Those individuals were Marysville's Hayden Lee in Division I, Graham's Micah Jordan in Division II and Dayton Christian's Jacob Danishek in Division III.

The 78th Annual Individual Wrestling State Championship will return to the Jerome Schottenstein Center in March 12-14, 2015, one week later than in the recent past.
LIVE AUDIO COVERAGE
Loudonville WZLP 95.7 FM
Massillon ESPN 990 AM WTIG
Milan WLKR 95.3 FM
Urichsville WBTC 1540 AM

Other Media Coverage
Cleveland Northeast Ohio Media Group/Plain Dealer:
http://highschoolsports.cleveland.com/news/article/-5122765972817808702/extensive-coverage-photo-galleries-videos-coming-from-3-days-of-ohsaa-state-wrestling-tournament/
Watch the State Championship Matches (Tape Delay) on Time Warner Cable Sports Channel
Follow on Twitter @OHSAASports

Directions, Hotels, Tickets, Gear, Programs, DVDs, Photos


Impact Action Sports Photography is the official photographer of the OHSAA. A parent request form is available to fill in detailed information in helping photographers satisfy requests in covering specific athletes. Click here to fill out a parent request form.
###OHSAA###