2015 OHSAA Individual Wrestling
State Tournament Coverage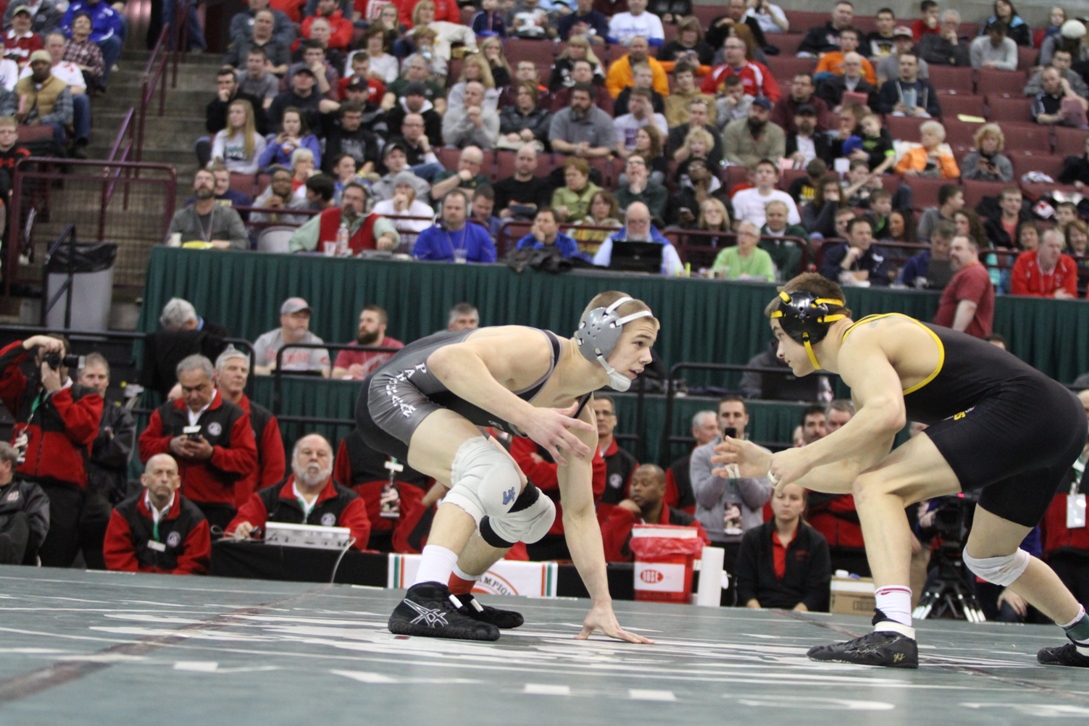 Order State Tournament Photos from Impact Action Photos - Official Photographer of the OHSAA
2015 OHSAA Individual Wrestling State Tournament
The Jerome Schottenstein Center
The Ohio State University, Columbus
March 12-14, 2015
2015 State Tournament Parking Map
STATE TOURNAMENT CENTRAL
State Tournament Schedule, Participants, Brackets & Pairings
State Tournament Preview
---
Watch the State Championship Matches (Session 5) on Time Warner Cable Sports Channel (tape-delayed telecast)
---
Lakewood St. Edward, St. Paris Graham Local, Dayton Christian Finish Atop Team Point Totals

Ganger and Marinelli Become Three-Time State Champions


COLUMBUS, Ohio – The best wrestlers in Ohio returned to the Jerome Schottenstein Center at The Ohio State University Thursday through Saturday to compete in the 2015 OHSAA individual wrestling state tournament.

Lakewood St. Edward finished first in Division I with 111.5 total team points. The state title marks its 29th team championship at the individual wrestling state tournament. Elyria finished second with 97 points. In Division II, St. Paris Graham Local won its 15th-consecutive team state title at the individual tournament by finishing with 250 total points. It is the second-longest state championship streak in OHSAA history, trailing only Gates Mills Hawken girls swimming (17). Toledo Central Catholic finished as state runner-up with 99 total points. The Division III competition stayed close all weekend, but Dayton Christian (161.5) was able to edge pasta Delta (150.5) to secure the team state title.

The Ohio High School Wrestling Coaches Association named Massillon Perry senior Jose Rodriguez (Division I), Bellbrook senior Cameron Kelly (Division II) and Creston Norwayne senior Kollin Moore (Division III) the most outstanding wresters of the meet. Moore did not surrender an offensive point all season, joining only Wadsworth's Matt Kalai to do so among available information.

Two junior wrestlers won their third state title this year, giving them the opportunity to join the elite group of four-time state champions next year. Graham's Alex Marinelli won the Division II 160 pound weight class. Also in Division II, Uhrichsville Claymont's Tyler Warner won the 120 pound weight class.

The championship session Saturday night that began with the Parade of Champions drew 12,527 fans. The three-day tournament attendance was 54,214.

The 79th Annual Individual Wrestling State Championship will return to the Jerome Schottenstein Center March 3-5, 2016.




Directions, Hotels, Tickets, Gear, Programs, DVDs, Photos


Impact Action Sports Photography is the official photographer of the OHSAA. A parent request form is available to fill in detailed information in helping photographers satisfy requests in covering specific athletes. Click here to fill out a parent request form.
###OHSAA###