2016 OHSAA Individual Wrestling State Tournament
Jerome Schottenstein Center
The Ohio State University, Columbus
March 3-5, 2016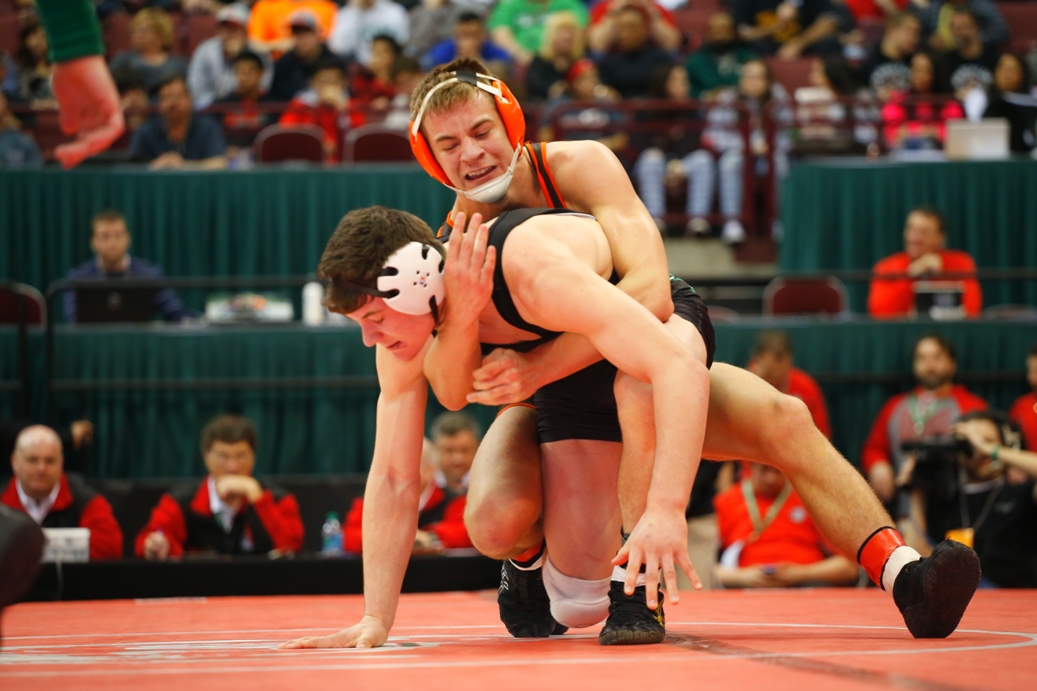 Order State Tournament Photos from Impact Action Photos - Official Photographer of the OHSAA
[ State Tournament Schedule, Participants, Brackets & Pairings ]
2016 State Tournament Parking Map
St. Paris Graham Localís Marinelli Becomes 28th Four-Time State Champion; Lakewood St. Edward, Graham and Delta Win Individual Wrestling Team State Championships

COLUMBUS, Ohio ó St. Paris Graham Local senior Alex Marinelli earned his fourth-state championship and Lakewood St. Edward, Graham and Delta finished with the highest team point totals in their respective divisions to earn state championships at the 2016 OHSAA state wrestling individual tournament at the Jerome Schottenstein Center on Saturday.

With a 15-7 majority decision victory in the Division II 170 pound state final match, Graham senior Alex Marinelli became the 28th OHSAA wrestling four-time state champion. Marinelliís victory, along with four other state champion finishes by Graham wrestlers, earned Graham its 84th individual state championship, second all-time.

St. Edward earned Division I team state champion honors with a team point total of 152. St. Edward finished with nine state placers and two state champions en route to its 30th wrestling state championship, most all-time.

Using a point total of 253, St. Paris Graham Local captured its 18th individual wrestling team state championship. Graham has won 16 straight state championships dating back to 2001. Graham finished with 13 state placers and saw five of its wrestlers crowned state champions.

Delta captured its second-straight and sixth overall wrestling state title, using a point total of 159 to earn state champion honors. Seven Delta wrestlers finished as state placers and four wrestlers earned state championships in their respective weight classes.

St. Edward, Graham and Delta all earned state championships at the 2016 OHSAA wrestling dual team tournament on February 14 at St. John Arena in Columbus.

Mechanicsburg junior Kaleb Romero finished his season undefeated and earned his third state championship, winning the Division III 160 pound final match, 15-0 by way of a technical fall. Romero will look to become a four-time state champion next season.

Delta senior Jake Spiess also became a three-time state champion, winning the Division III 132 pound class, and Miamisburg Dayton Christian senior Logan Lacure earned state champion honors in the Division III 145 pound class, his third state title. Romero, Spiess and Lacure are the 62nd, 63rd and 64th three-time OHSAA wrestling state champions, respectively.

The total attendance for the tournament was 56,062 and the session five attendance was 13,202.

---
Watch the State Championship Matches (Session 5) on Time Warner Cable Sports Channel (tape-delayed telecast)
---

Directions, Hotels, Tickets, Gear, Programs, DVDs, Photos


Impact Action Sports Photography is the official photographer of the OHSAA. A parent request form is available to fill in detailed information in helping photographers satisfy requests in covering specific athletes. Click here to fill out a parent request form.
###OHSAA###