2014 OHSAA Gymnastics
State Tournament Coverage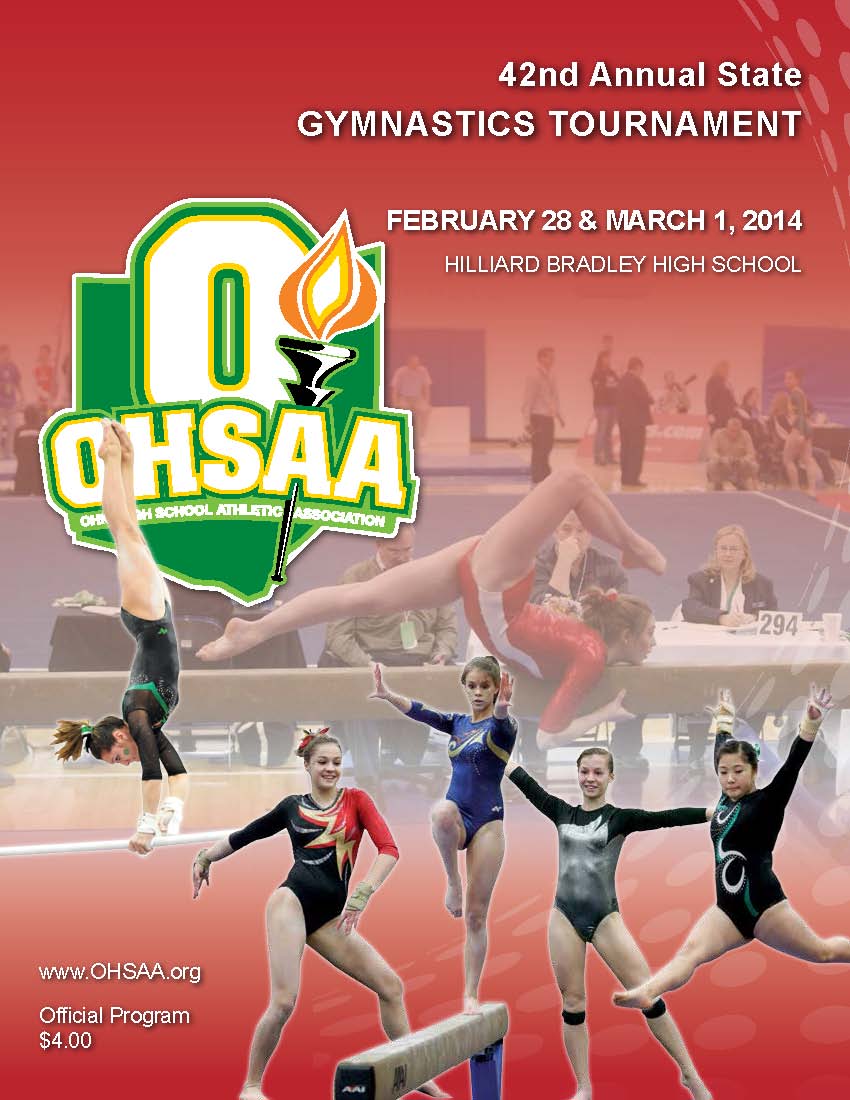 State Schedule
Coaches Ethics and Integrity Award and State Scholar-Athletes
2014 OHSAA Gymnastics State Tournament
Hilliard Bradley High School, Hilliard
February 28 and March 1, 2014
OHSAA 2014 State Gymnastics Team Tournament Recap

Brecksville-Broadview Heights claims 11th consecutive state championship

COLUMBUS, Ohio – The Brecksville-Broadview Heights girls gymnastics team continued its domination this weekend, winning its 11th consecutive state championship at the 2014 team tournament at Hilliard Bradley High School.

On Friday, Brecksville placed first in all four competitions. On vault, the Bees scored 36.525 points. On the uneven bars, they scored 36.075, on beam 35.600 points, and on the floor exercise 36.425 points.

Brecksville scored a total of 144.625 team points to top second place Mentor, which scored 141.475 points. Hudson and Strongsville rounded out top three and four, respectively.


OHSAA 2014 State Gymnastics Individual Tournament Recap

Brecksville-Broadview Heights sophomore Alecia Farina takes home second consecutive individual gymnastics championship

COLUMBUS, Ohio- For the second consecutive year, Brecksville-Broadview Heights sophomore Alecia Farina earned the OHSAA gymnastics all-around individual state championship. With a point total of 38.325, Farina's score is the third highest all-time all-around gymnast score in OHSAA gymnastics state tournament history. Farina won the bars with a score of 9.600, vault with a score of 9.750, and finished second on floor (9.525) and on beam (9.450).

Macedonia Nordonia senior Monica Batton won floor with a score of 9.550, becoming the first floor champion in her school's history. In addition to winning floor, Batton also was named balance beam champion, posting a score of 9.475. This was the highest beam score since 2009. Batton finished second with an all-around total of 38, which is the seventh highest all-around point total in OHSAA gymnastics tournament history.



Follow on Twitter @OHSAASports


Directions, Hotels, Tickets, Gear, Programs, DVDs, Photos


Impact Action Sports Photography is the official photographer of the OHSAA. A parent request form is available to fill in detailed information in helping photographers satisfy requests in covering specific athletes. Click here to fill out a parent request form.
###OHSAA###