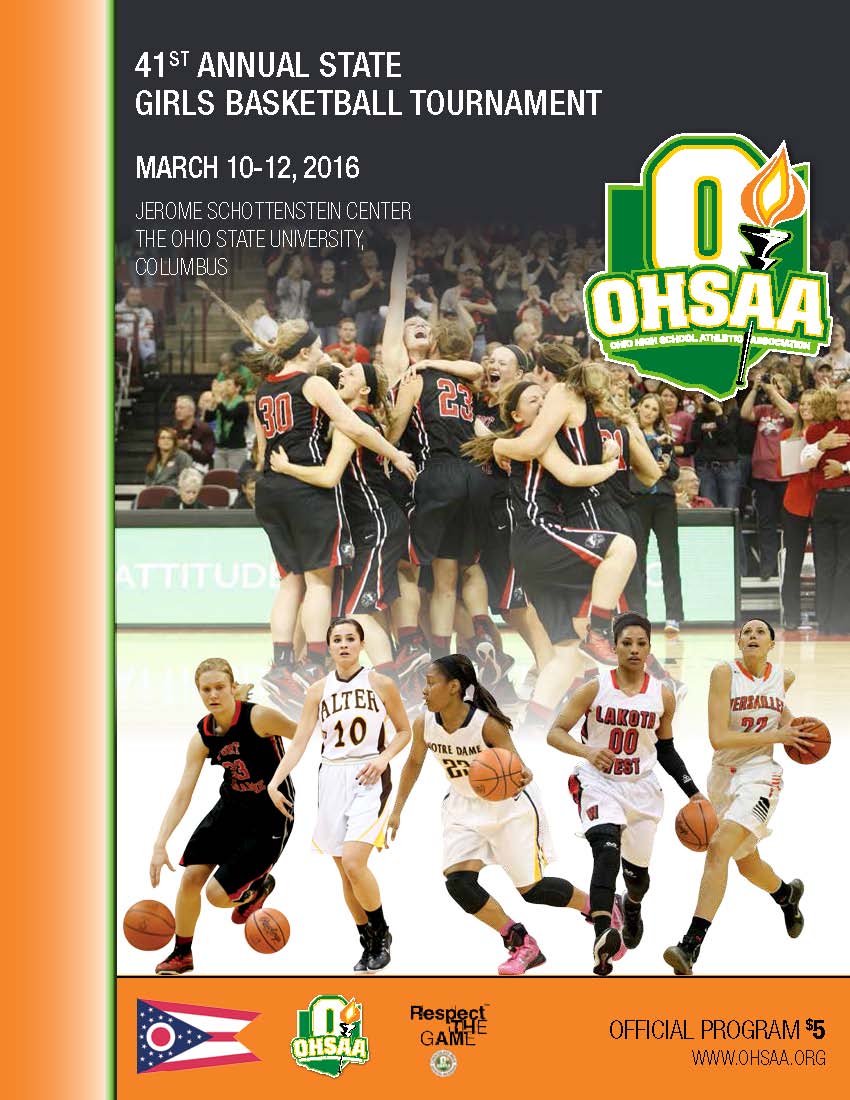 [ STATE TOURNAMENT LIVE STATS ]
Listen to all 12 OHSAA girls basketball tournament games on the OHSAA Radio Network.
Click here to listen live.
[ Radio Network Home ]
State Tournament Schedule, Stats and Recaps
2016 Girls Basketball State Tournament Pairings
All Games at the Jerome Schottenstein Center, The Ohio State University, Columbus
Home teams listed first. Rankings are from final regular-season Associated Press state poll
Championship games televised live by SportsTime Ohio
All games live on the OHSAA Radio Network
Thursday, March 10 - Semifinals

1:00 p.m.

Div. III - #10 Marion Pleasant (27-2) 50, Gates Mills Gilmour Academy (23-6) 47

3:00 p.m.

Div. III - Columbus Africentric (23-5) 63, #9 Ironton (27-1) 34

6:00 p.m.

Div. II - #1 Kettering Archbishop Alter (27-2) 60, Columbus Eastmoor Academy (22-5) 34

8:00 p.m.

Div. II - #5 Ottawa-Glandorf (26-2) 51, Shaker Heights Hathaway Brown (17-11) 40

Friday, March 11 - Semifinals

1:00 p.m.

Div. IV - #2 Waterford (27-1) 52, Willoughby Cornerstone Christian (23-5) 42

3:00 p.m.

Div. IV - Fostoria St. Wendelin (26-3) 47, Jackson Center (21-8) 37

6:00 p.m.

Div. I - #1 Wadsworth (27-1) 58, Reynoldsburg (23-6) 48

8:00 p.m.

Div. I - #5 Mason (26-2) 48, Solon (18-9) 31

Saturday, March 12 - Finals

10:45 a.m.

Div. III - Africentric (24-5) 59, #10 Marion Pleasant (27-3) 37

2:00 p.m.

Div. II - #1 Kettering Archbishop Alter (27-2) 74, #5 Ottawa-Glandorf (26-2) 48

5:15 p.m.

Div. IV - #2 Waterford (28-1) 29, Fostoria St. Wendelin 27

8:30 p.m.

Div. I - #1 Wadsworth (28-1) x, #5 Mason (26-3) 51
---
State Tournament Tickets
In addition to the OSU ticket office at the Schottenstein Center for basketball and Nationwide Arena for hockey, state tournament tickets can be purchased at Ticketmaster.com, in person at Ticketmaster locations (including most Kroger stores) or by calling Ticketmaster at 1-800-745-3000. Service charges apply when ordering tickets through Ticketmaster and can be avoided by purchasing tickets directly at the ticket office. Office hours are Monday through Friday from 8 a.m. to 5 p.m. Fans purchasing tickets at Ticketmaster.com can access OHSAA state tournaments by using 'OHSAA' in the search box. The direct link is: http://www.ticketmaster.com/search?tm_link=tm_homeA_header_search&user_input=ohsaa&q=ohsaa
Girls Basketball Pricing
The cost for an all-session (12 games) ticket book is $64 each, and single-game tickets are $10 apiece. Tickets for the semifinals allow fans to watch both games in the same division. Tickets can also be purchased in advance from the 16 state tournament qualifying schools for $8 each.
Suites and RV Parking
Fans interested in renting a suite at one of the OHSAA state tournaments should contact Justin Doyle at 614-688-5860 or [email protected]. RV parking will be available at a designated lot near the Schottenstein Center. More information will be available at Ticketmaster and from the OHSAA.
---
2016 Girls Basketball State Tournament Preview
---
2016 State Tournament Parking Map
---
Watch all four 2016 OHSAA girls basketball state championship games live on SportsTime Ohio.
(Seen on channels 310/1310 in SW Ohio)


Impact Action Sports Photography is the official photographer of the OHSAA. A parent request form is available to fill in detailed information in helping photographers satisfy requests in covering specific athletes. Click here to fill out a parent request form.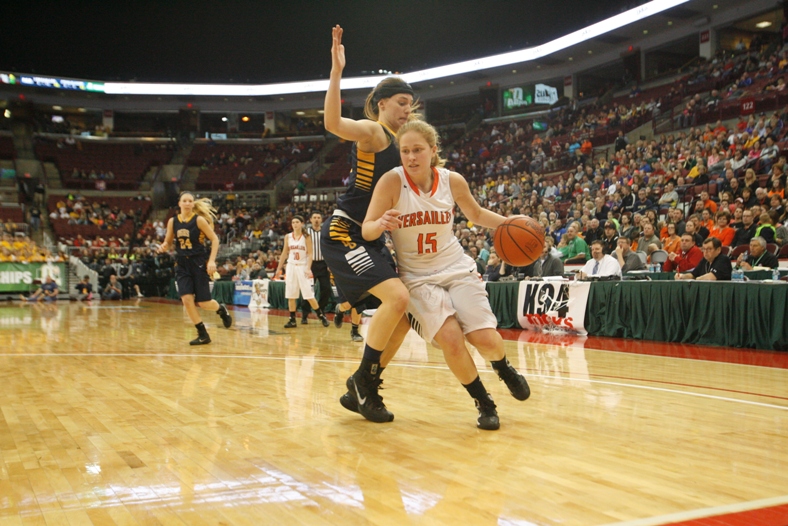 Order State Tournament Photos from Impact Action Photos - Official Photographer of the OHSAA
---
Click Here for Statewide Tournament Brackets
A Guide for Using & Navigating OHSAA Brackets
---
2016 Girls Basketball Regional Pairings
Division I
Home team listed first
Region 2
Toledo Whitmer (20-6) vs. Westlake (24-2) at Norwalk High School, Tues., 7 pm
Wadsworth (24-1) vs. Rocky River Magnificat (21-4) at North Royalton High School, Tues., 7 pm
Regional Final: at TBA, Saturday, 1:00 pm
Region 3 – Westerville Regional
Reynoldsburg (21-5) vs. Upper Arlington (20-6) at Otterbein University, Tues., 6:15 pm
Newark (19-7) vs. Pickerington Central (23-3) at Otterbein University, Tues., 8 pm
Regional Final: at Otterbein University, Friday, 7:30 pm
Region 4 – Kettering Regional
West Chester Lakota West (25-1) vs. Springboro (23-3) at Kettering Fairmont High School, Wed., 6:15 pm
Mason (23-2) vs. Huber Heights Wayne (25-1) at Kettering Fairmont High School, Wed., 8 pm
Regional Final: at Kettering Fairmont High School, Saturday, 7 pm
Region 1 – Canton Regional
Stow-Munroe Falls (15-10) vs. Canton McKinley (21-3) at Canton Memorial Civic Center, Tuesday, 6:15 pm
Euclid (11-12) vs. Solon (16-8) at Canton Memorial Civic Center, Tuesday, 8 pm
Regional Final: at Canton Memorial Civic Center, Friday, 7:30 pm
Div. I State Tournament at Value City Arena, Jerome Schottenstein Center
Region 2 vs. Region 3, Friday, March 11, 6 pm
Region 4 vs. Region 1, Friday, March 11, 8 pm
Div. I State Championship: Saturday, March 12, 8:30 pm
Division II
Home team listed first
Region 7 – Zanesville Regional
Columbus Eastmoor Academy (20-4) vs. Chillicothe (18-8) at Zanesville High School, Tues., 6:15 pm
Millersburg West Holmes (21-3) vs. Carrollton (21-5) at Zanesville High School, Tues., 8 pm
Regional Final: at Zanesville High School, Friday, 7:30 pm
Region 8 – Springfield Regional
Tipp City Tippecanoe (21-5) vs. Caledonia River Valley (18-7) at Springfield High School, Tues., 6:15 pm
Kettering Archbishop Alter (24-2) vs. Bellbrook (26-0) at Springfield High School, Tues., 8 pm
Regional Final: at Springfield High School, Friday, 7:30 pm
Region 5 – Barberton Regional
Cleveland Villa Angela-St. Joseph (12-7) vs. Shaker Heights Hathaway Brown (15-10) at Barberton High School, Tues., 6:15 pm
Elyria Catholic (19-3) vs. Cortland Lakeview (22-2) at Barberton High School, Tues., 8 pm
Regional Final: at Barberton High School, Saturday, 2 pm
Region 6 – Ontario Regional
Ottawa-Glandorf (23-2) vs. Akron Archbishop Hoban (21-4) at Ontario High School, Tues., 6:15 pm
Toledo Rogers (21-5) vs. Bellevue (21-5) at Ontario High School, Tues., 8 pm
Regional Final: at Ontario High School, Friday, 7:30 pm
Div. II State Tournament at Value City Arena, Jerome Schottenstein Center
Region 7 vs. Region 8, Thursday, March 10, 6 pm
Region 5 vs. Region 6, Thursday, March 10, 8 pm
Div. II State Championship: Saturday, March 12, 2:00 pm
Division III
Home team listed first
Region 9 – Cuyahoga Falls Regional
Gates Mills Gilmour Academy (21-5) vs. Canton Central Catholic (20-6) at Cuyahoga Falls High School, Wed., 6:15 pm
Newton Falls (24-1) vs. Doylestown Chippewa (22-3) at Cuyahoga Falls High School, Wed., 8 pm
Regional Final: at Cuyahoga Falls High School, Saturday, 1:30 pm
Region 12 – Springfield Regional
Bethel-Tate (18-8) vs. Marion Pleasant (24-2) at Springfield High School, Wed., 6:15 pm
Versailles (21-5) vs. West Liberty Salem (20-3) at Springfield High School, Wed., 8 pm
Regional Final: at Springfield High School, Saturday, 1:30 pm
Region 11 – Logan Regional
Ironton (25-0) vs. Albany Alexander (17-6) at Logan High School, Wed., 6:15 pm
Lynchburg Clay (24-1) vs. West Lafayette Ridgewood (N/A) at Logan High School, Wed., 8 pm
Regional Final: at Logan High School, Saturday, 1:30 pm
Region 10 – Lexington Regional
Columbus Grove (23-2) vs. Metamora Evergreen (23-2) at Ohio Northern University, Tues., 7 pm
Attica Seneca East (N/A) vs. Columbus Africentric (20-5) at Lexington High School, Wed., 7 pm
Regional Final: at Lexington High School, Saturday, 1:30 pm
Div. III State Tournament at Value City Arena, Jerome Schottenstein Center
Region 9 vs. Region 12, Thursday, March 10, 1 pm
Region 11 vs. Region 10, Thursday, March 10, 3 pm
Div. III State Championship: Saturday, March 12, 10:45 am
Division IV
Home team listed first
Region 15
Lancaster Fairfield Christian (21-3) vs. Granville Christian (21-3) at Pickerington North High School, Thurs., 7 pm
South Webster (20-3) vs. Waterford (24-1) at Jackson High School, Thurs., 7 pm
Regional Final: at TBA, Saturday, 7:30 pm
Region 13 – Massillon Regional
North Ridgeville Lake Ridge Academy (17-8) vs. Berlin Hiland (23-3) at Massillon Perry High School, Thurs., 6:15 pm
North Jackson Jackson-Milton (23-2) vs. Willoughby Cornerstone Christian Academy (21-4) at Massillon Perry High School, Thurs., 8 pm
Regional Final: at Massillon Perry High School, Saturday, 7:30 pm
Region 14 – Elida Regional
Fayette (25-1) vs. New London (21-4) at Elida High School, Thurs., 6:15 pm
Arlington (25-1) vs. Fostoria St. Wendelin (23-3) at Elida High School, Thurs., 8 pm
Regional Final: at Elida High School, Saturday, 7:30 pm
Region 16 – Vandalia Regional
Fort Loramie (21-4) vs. Minster (21-4) at Butler High School, Wed., 7 pm
Jackson Center (22-4) vs. Dayton Miami Valley (N/A) at Butler High School, Thurs., 7 pm
Regional Final: at Butler High School, Saturday, 7:30 pm
Div. IV State Tournament at Value City Arena, Jerome Schottenstein Center
Region 15 vs. Region 13, Friday, March 11, 1 pm
Region 14 vs. Region 16, Friday, March 11, 3 pm
Div. IV State Championship: Saturday, March 12, 5:15 pm
---

Directions, Hotels, Tickets, Gear, Programs, DVDs, Photos
###OHSAA###