Statewide Football Brackets
Weekly Media Notes & Pairings
2012 OHSAA State Football Championships Coverage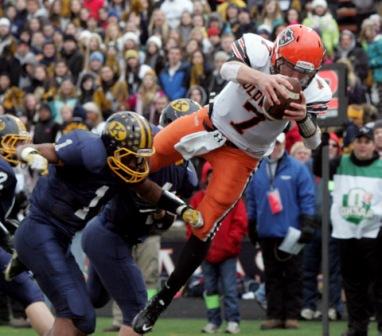 Click photo above for 2011 photo gallery.
2012 OHSAA Football Playoff Brackets
2012 OHSAA State Football Championships
Canton Fawcett Stadium and Massillon Paul Brown Tiger Stadium
November 30 & December 1, 2012
Division VI
Massillon Paul Brown Tiger Stadium – Friday, November 30, 11:00 a.m.
Marion Local Wins Back-to-Back Football Championships in Thrilling Fashion
Flyers win 28-21 over Newark Catholic in Division VI Championship

MASSILLON – Maria Stein Marion Local needed all 48-minutes and an untimed down to hold off Newark Catholic, 28-21, and repeat as OHSAA Division VI state football champions Friday afternoon at Paul Brown Tiger Stadium in Massillon.

Ninth-ranked Marion Local (13-2) scored with 21-seconds left in the fourth quarter on a sweep left from freshman Hunter Wilker, his third touchdown of the game, to give the Flyers the lead. Seventh-ranked Newark Catholic (12-2) responded, starting with the ball on its own 35-yard line. Junior quarterback Chayce Crouch found senior receiver Kevin Bourne twice down field to drive the ball to the Marion Local 11-yard line. A pass interference call in the end zone as time expired gave the Green Wave one untimed down where Flyer junior defensive back Nate Nagel knocked away a pass in the end zone, ending the game.

The 2012 football state championship marks the sixth time Marion Local has won a title and is the third time the Flyers have won back-to-back championships.

Marion Local lost starting running back sophomore Jay Goettemoeller early in the first quarter after only three carries for 19 yards. Junior quarterback Adam Bertke stepped in to carry the load offensively, rushing 27 times for 102 yards, while completing 17 passes for 166 yards. While the junior quarterback carried the offense, Wilker, the converted receiver, put them into the end zone on rushing touchdowns of six, 11 and one yards. Senior Alaric Keller provided the other touchdown, punching the ball in from the one yard line in the third quarter for the Flyers.

Newark Catholic's Crouch did all he could in leading the Green Wave offensively, completing 14 of 27 passes for 236 yards and two touchdowns and running for 37 yards and a touchdown. Bourne led Newark Catholic receivers with eight receptions for 121 yards and a touchdown. He also recorded six and a half tackles defensively for the Green Wave.
Newark Catholic finished as state runner-up for the sixth time in school history after returning to the championship game for the first time since 2007. The Green Wave hold eight state championship titles and lead all schools with 67 playoff wins.

---

Division IV
Canton Fawcett Stadium - Friday, November 30, 3:00 p.m.
Clarksville Clinton-Massie Defeats St. Clairsville 46-36 to Win First State Title
Falcons hold off determined Red Devils to finish 15-0

In a game that included 988 total yards of offense, fourth-ranked Clarksville Clinton-Massie outlasted seventh-ranked St. Clairsville, 46-36, Friday afternoon to win the 2012 OHSAA Division IV football state final game in front of 8,676 fans at Canton's Fawcett Stadium.

Clinton-Massie tallied 472 total yards of offense, while St. Clairsville racked up 516 yards, but Clinton-Massie's state record-setting guided the Flacons to their school's first state title.

With Clinton-Massie's 46 points, they added to their state record for the most points in a season with 822, a record previously set by Marion Pleasant in 2001. The combined yardage total ranks third all-time in an OHSAA state championship game.

St. Clairsville finished the season 14-1 and took home its school's first state runner-up trophy in its third final four appearance. The Red Devils lost in the semifinal game in 1986 and 1983.

St. Clairsville received impressive performances by two All-Ohio seniors in their final games. Marhefka set the state record for the most receiving yards by an individual in a state title game in all divisions (272 yards) and Kinnick finished fourth all-time for the most passing yards in all divisions with 437.

Clinton-Massie wasted no time getting on the scoreboard as it drove 64-yards on seven plays to score on its first possession and take a 6-0 lead after a missed PAT. Senior Cole Brogan then intercepted St. Clairsville's first pass attempt, which lead to another Falcons touchdown and a 12-0 lead. Clinton-Massie would finish the quarter with a comfortable 19-0 lead.

St. Clairsville didn't show any quit, however, and put together an impressive 21 point outburst, highlighted by a 76-yard touchdown pass from Matt Kinnick (Sr.) to Jerrid Marhefka (Sr.). Clinton-Massie also put 14 points up during the quarter to maintain a 35-21 lead at the half.

The third quarter featured a touchdown by each team, but St. Clairsville cut Clinton-Massie's lead to three, 39-36, on a 46-yard Kinnick pass to Marhefka with 2:36 remaining in the game. However, Clinton-Massie responded with Bayle Wolf's fifth touchdown run of the game to take home the state title. With Wolf's last touchdown, he tied the record for the most individual touchdowns in a Division IV game.

The Falcons, which gained 408 of their 472 yards on the ground, also tied the record for the most touchdowns in a Division IV state title game with seven.

---

Division II
Massillon Paul Brown Tiger Stadium – Friday, November 30, 7 p.m.
Toledo Central Catholic Wins Second State Football Championship
Irish defeat Trotwood-Madison 16-12 in Division II Title Game

MASSILLON – Fourth-ranked Toledo Central Catholic dictated the style of play from kickoff to the final whistle in defeating ninth-ranked and defending state champion Trotwood-Madison 16-12 in the 2012 OHSAA Division II state football championship game Friday evening at Massillon Paul Brown Tiger Stadium.

The Irish (14-1) collected 245 yards of total offense and controlled the tempo of the game, led by senior running back Amir Edwards, who carried the ball 38 times for 185 yards and accounted for Central Catholic's two touchdowns.

Defensively the Irish held Trotwood to 46 total yards in the first half and were very strong as a unit, with five players collecting four or more tackles and an additional nine players collecting a tackle or more, while also recording a momentum changing safety.

Central Catholic now has two state football titles in two trips to the championship game. The Irish previously won the title in 2005. The title is the fourth for the city of Toledo, with St. Francis deSales winning the other two titles in 1984 and 2001.

Trotwood (12-3) couldn't find a rhythm offensively until the fourth quarter, when senior quarterback Austin Howell took over the offensive signal caller duties. Howell was instrumental in the Rams' two scoring drives and helped get them within four points of Central Catholic on a touchdown pass to junior receiver Demarcus Wilson with 2:38 remaining in the game.

Trotwood junior running back Isreal Green, who ran for 327 yards and six touchdowns in the 2011 championship game was held to 56 yards rushing on 14 carries in the 2012 final.

Playing in their third straight championship game, and after winning the title in 2011, the Rams finish as runner-up for the second time in three years and third time overall.

---
Canton Fawcett Stadium – Saturday, December 1, 11:00 a.m.
Akron St. Vincent –St. Mary Races By Bellevue to Win Fifth Football State Championship
Fighting Irish use impressive running game to defeat Redmen 42-21

CANTON – Ninth-ranked Akron St. Vincent-St. Mary used its athleticism and three highlight reel plays by junior Newman Williams to run away with a 42-21 win over seventh-ranked Bellevue in the 2012 OHSAA Division III football state championship game at Canton Fawcett Stadium in front of 9,109 fans Saturday afternoon.

With 1:05 remaining in the third quarter and the Fighting Irish facing a fourth and seven, SVSM faked a punt and direct snapped to Williams, who fought through multiple defenders and scored on a 41-yard march to the end zone to give the Fighting Irish a 28-14 lead. On the ensuing Redmen possession, Williams recorded an interception and eventually scored on a five-yard touchdown charge into the end zone. His impressive three-play display took just under three and a half minutes and all but clinched the game for the Fighting Irish.

The title is the fifth overall for SVSM (13-2) but first since 1988 (2012, 1988, 1982, 1981, 1972). The Fighting Irish are now 5-1 all-time in state final games.

Bellevue, which defeated top-ranked Napoleon and fourth-ranked Thurgood Marshall during its playoff run, was making its first state title game appearance and finished the season 13-2.

Both teams used a steady dosage of passing throughout the game, but it was SVSM's rushing game, which totaled 281 yards compared to Bellevue's 63, that gave the Fighting Irish their 435-247 edge in total yardage.

SVSM junior Parris Campbell led the ground attack with 165 yards, including an impressive 47-yard dash down the sideline to give the Fighting Irish their first points of the contest. He would finish the game with three touchdowns. SVSM Williams' also finished with an impressive performance, tallying 51 rushing yards on his three carries (17 yard average).

Bellevue relied heavily on its senior quarterback Jalen Santoro, the Division III All-Ohio Co-Offensive Player of the Year. Santoro finished the game with 53 yards rushing, 184 yards passing on 25 attempts and three touchdown tosses.

Part of the Redmen running game was suppressed by the Division III All-Ohio Co-Defensive Player of the Year, Dante Booker, who took the Redmen runners down for nine tackles.
---
Massillon Paul Brown Tiger Stadium – Saturday, December 1, 3:00 p.m.
Coldwater Knocks Off Defending Champion Kirtland for Third Football Championship
Cavaliers defeat Hornets 10-9 in Division V title game

MASSILLON – In an OHSAA Division V state football championship game rematch from a year ago, No. 1 Coldwater defeated defending champion No. 2 Kirtland, 10-9, in a defensive struggle at Massillon Paul Brown Tiger Stadium on Saturday afternoon.

With 2:34 remaining in the fourth quarter and Coldwater clinging to a 10-9 lead, Kirtland began a drive that ended with senior quarterback Scott Eilerman throwing a pass intercepted by a diving Brody Hoying (So.), sealing a hard fought victory by the Cavaliers.

In its fourth straight trip to the state championship game Coldwater (15-0) left as a state champion in 2012, with the school's third overall football title. The Cavaliers two previous titles came in 2005 and 2007.

Defensively the Cavaliers were led by Associated Press All-Ohio co-defensive player of the year, senior linebacker Zach Dickman, who accounted for 10 tackles. Dickman was accompanied by fellow senior linebacker Derek Collett, also totaling 10 tackles. Coldwater had 12 players record one or more tackles.

Offensively, Coldwater totaled 319 total yards, led by AP All-Ohio co-offensive player of the year senior quarterback Austin Bruns, who completed 20 of 28 passes for 233 yards and ran for 97 yards.

For all of the offensive yardage output, Coldwater could only capitalize on two occasions, scoring one touchdown and a field goal. Junior receiver Mitch Schoenherr caught a seven-yard touchdown pass from Bruns late in the first quarter and Kyle Bergman provided a crucial field goal as time expired in the first half to account for the Cavaliers' points.

In the back and forth game, defending state champion Kirtland (14-1) mustered 199 yards of total offense led by sophomore fullback Adam Hess, who ran 24 times for 86 yards and Eilerman, who was 4-11 passing for 25 yards and a touchdown.

The Hornets were able to pull within one point of Coldwater with 6:22 remaining in the fourth quarter when sophomore defender Sam Skiljan sniffed out a Cavalier bubble screen on the one-yard line to record a safety for Kirtland.

In their second appearance in the title game, coming in back-to-back years, the Hornets finish as state runner-up for the first time.

---

Division I
Canton Fawcett Stadium – Saturday December 1 – 7:00 p.m.
Cincinnati Moeller Outlasts Toledo Whitmer 20-12 to Claim Eighth State Title
Crusaders tied for second all-time for most football state titles

CANTON – Cincinnati Moeller knocked off previously undefeated and third-ranked Toledo Whitmer 20-12 in the 2012 OHSAA Division I football state championship game Saturday night in front of ¬¬¬8,834 fans at Canton Fawcett Stadium.

The title, which is Moeller's eighth overall but first since 1985, comes in the Crusaders' 12th state final appearance and ties them with Newark Catholic and Youngstown Cardinal Mooney for the second-most all-time. Cleveland St. Ignatius, the 2011 Division I state champion, holds the record with 11 state titles.

Before the championship game, Whitmer had outscored its opponents 614-153 and, despite its unfamiliarity with tightly contested contests, was able to amass 304 total yards to match Moeller's impressive passing and rushing combination of 161 and 154 yards, respectively. Whitmer also assembled 17 first downs to keep pace with Moeller's 20.

The Crusaders were led by their senior quarterback, Spence Iacovone, who accounted for 161 passing yards on 15 of 19 attempts. His main target the majority of the evening was Keith Watkins, who caught eight passes for 76 yards and also garnered 68 rushing yards on 22 carries. Moeller kicker Matt Reiniger was also instrumental in the contest, connecting on two field goals and two PAT attempts.

The Crusaders were led on the defensive end by their senior All-Ohio Co-Defensive Player of the Year, Shane Jones, who totaled 7.5 tackles.

The twin brother duo of Nick and Nate Holley provided the majority of the offense for Whitmer. Nick completed 12 of 20 pass attempts for 196 yards and rushed for 92 yards on 23 carries. Nate, who also contributed eight tackles on the defensive end, connected with his brother on eight passes to tally 135 yards in his final game. Micha Dzikowski also scored a touchdown in the first quarter on a 37-yard reception.

The six-game, two-day attendance at the OHSAA 2012 football state championships was 43,911, down 4,784 from 2011.
---
State Football Championships Preview
Follow live stats of all six state championship games from Canton and Massillon. Click here.
2012 Football Championship stats will go live November 30 & December 1.

Watch all six state championship games live on SportsTime Ohio.

Listen to all six state championship games on the OHSAA Radio Network. Click here to listen live.
Statewide Radio Coverage Map - Click here
See what radio stations around the state are carrying championship games.
Follow on Twitter @OHSAASports
Program Covers for 2012 Regional, State Semifinal and State Championships
Purchase your official OHSAA souvenir program at OHSAA tournament sites or click here.
Associated Press Ohio High School State Football Polls
How a state panel of sports writers and broadcasters rates Ohio high school football teams in the weekly Associated Press poll of 2012.
Sept. 10 | Sept. 17 | Sept. 24 | Oct. 1 | Oct. 8 | Oct. 15 | Oct. 22 | Oct. 29 (Final)

Directions, Hotels, Tickets, Gear, Programs, DVDs, Photos


###OHSAA###