---
2003 OHSAA ICE HOCKEY TOURNAMENT RESULTS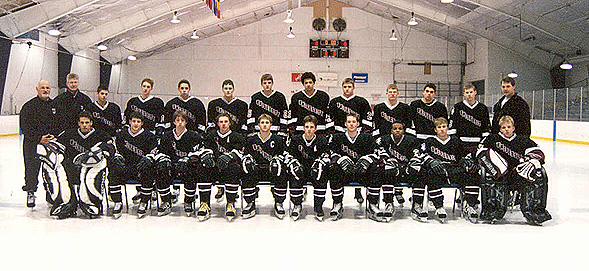 Hunting Valley University School
Coach Bill Beard

ICE HOCKEY STATE TOURNAMENT
REVIEW: 26th Annual State Tournaments, March 1 and 2, Nationwide Arena, Columbus
Hunting Valley University School (25-11-4) won its first state championship as it held off defending champ and the state leader in hockey titles, Lakewood St. Edward, 2-1. Senior forward Curt Kassigkeit's second-period goal broke a 1-all tie and junior goalie John Sideris made 23 saves to give the Preppers the title. Junior wing Larry Germovsek had the first goal for University, while senior center Jim McClain had the goal for St. Edward (24-8-2). St. Edward, winners of eight state championships, had won three of the five regular season meetings between the two schools.
University reached the finals by stopping state tournament newcomer Worthington Thomas Worthington in the semifinals, 6-1. Kassigkeit recorded a hat trick to lead the way, and Sideris stopped 12 shots on goal. The Preppers broke open a 1-all game by scoring five goals in the second period. St. Edward overcame a 2-0 first period deficit, then saw senior wing Pete Antoske break a 3-all tie with a goal with 12.4 second remaining to give the Eagles a 5-3 win over Bowling Green. St. Edward added an empty-net goal following Antoske's heroics. Senior goalie Kyle Rudman had 26 saves for St. Ed.
STATE SEMIFINALS:
Game 1 - Hunting Valley University School (24-11-4) 6, Worthington Thomas Worthington (30-7-0) 1
1
2
3
Final
Thomas Worthington
1
0
0
1
University School
1
5
0
6
Scoring: W-Gus Webb; US-Larry Germovsek, Chris Murphy, Curt Kassigkeit 3, Brian Hall. Assists: W-Randy Bring, Jackson Ridenour. US-Brian Hall 2, Patrick Germovsek 3, Curt Kassigkeit, Elliot Taxman, Jonathan Kestner, Kyle Stefanski, Kerry Cebul, Dan Drobnick. Saves: W-Jonathon Knotts 25; US-John Sideris 12.
Game 2 - Lakewood St. Edward (34-7-2) 5, Bowling Green (29-2-0) 3
1
2
3
Final
Bowling Green
2
0
1
3
St. Edward
0
1
4
5
Scoring: BG-Casey Horner, Andrew Jordan, Matt Emans; SE-Jim McClain, Mark Wilson, Dave Bruder, Peter Antoske, Jason O'Bannon; Assists: BG-Andrew Jordan, Stephen Culbertson 2, Kevin Rawlik, Matt Emans; SE-Russell Sinkewich, Jason O'Bannon 2, Eric Sefchik, Dave Bruder, Mark Wilson. Saves: BG—Dan Marcson 28; SE-Kyle Rudman 26. Attendance: 3,457 (semifinals doubleheader).
STATE FINALS:
Hunting Valley University School (25-11-4) 2, Lakewood St. Edward (34-8-2) 1
1
2
3
Final
St. Edward
1
0
0
1
University School
1
1
0
2
Scoring: SE-Jim McClain; US-Larry Germovsek, Curt Kassigkeit. Assists: SE-Jason O'Bannon, Mark Wilson; US-Kerry Cebul, Elliot Taxman, Nick Boehm, Jonathan Kestner. Saves: SE-Kyle Rudman 16, Charles Long 1; US-John Sideris 23. Attendance: 3,108.
OHSAA State Tournament Bracket

(23-11-6)

Hunting Valley University School

6

State Semi-finals

Saturday, March - 11:00 am

Hunting Valley University School

2

at Nationwide Arena

(30-6-0)

Thomas Worthington

1

Hunting Valley

State Finals

University School

Sunday, March 2 - 2:00 pm

State Champion

(33-7-2)

Lakewood St. Edward

5

at Nationwide Arena

State Semi-finals

Saturday, March 1 - 2:00 pm

Lakewood St. Edward

1

at Nationwide Arena

(29-1-0)

Bowling Green

3
District Tournament Results

Kent District
Seeded teams: Hunting Valley University School #1, Mentor Lake Catholic #2, Shaker Heights #3, Mentor #4
Round #5
Hunting Valley University School 4, Mentor Lake Catholic 0
Round #4
Hunting Valley University School 9, Mentor 2
Mentor Lake Catholic 2, Shaker Heights 1
Round #3
Hunting Valley University School 10, Kent Roosevelt 0
Mentor 4, Cleveland Benedictine 0
Mentor Lake Catholic 6, Garfield Hts. Trinity 5
Shaker Heights 3, Mayfield Village Mayfield 2
Round #2
Hunting Valley University School 11, Garfield Heights 1
Kent Roosevelt 10, Twinsburg 0
Claveland Benedictine 4, Chardon Notre Dame-Cathedral Latin 0
Mentor 8, Cleveland Heights 1
Mentor Lake Catholic 12, Euclid 0
Garfield Hts. Trinity 7, Pepper Pike Orange 2
Shaker Heights 2, Gates Mills Gilmour Acad. 1
Mayfield Village Mayfield 6, North Canton Hoover 1
Round #1
Hunting Valley University School 9, Cuy. Falls Cuy. Valley Christian
Kent Roosevelt 8, Aurora 3
Cleveland Benedictine 5, Solon 3
Cleveland Heights 9, Chesterland West Geauga 2
Euclid 5, Chagrin Falls 1
Pepper Pike Orage 5, Chagrin Falls Kenston 2
Gates Mills Gilmour Acd. 7, Hudson 0
North Canton Hoover 7, Canfield 1
Troy District
Seeded Teams: Thomas Worthington #1, Cincinnati Archbishop Moeller #2, Worthington Kilbourne #3, Centerville #4
Round #4
Worthington Thomas Worthington 4, Cincinnati Archbishop Moeller 3
Round #3
Cincinnati Archbishop Moeller 4, Worthington Kilbourne 1
Worthington Thomas Worthington 6, Centerville 2
Round #2
Cincinnati Archbishop Moeller 1, Findlay 0
Worthington Kilbourne 3, Oxford Talawanda 1
Worthington Thomas Worthington 2, Beavercreek 1
Centerville 7, Gahanna Lincoln 2
Round #1
Findlay 5, Dublin Coffman 1
Worthington Kilbourne 4, Upper Arlington 3
Oxford Talawanda 7, Dublin Scioto 2
Beavercreek 3, Troy 2
Centerville 5, Cincinnati Sycamore 2
Gahanna Lincoln 3, Columbus St. Charles 2

Brooklyn District
Seeded teams: Lakewood St. Edward #1, Cleveland St. Ignatius #2, Parma Padua Franciscan #3, Parma Normandy #4
Round #4
Lakewood St. Edward 5, Cleveland St. Ignatius 2
Round #3
Lakewood St. Edward 9, Parma Normandy 1
Cleveland St. Ignatius 2, Parma Padua Franciscan 1
Round #2
Parma Normandy 3, North Olmsted 1
Lakewood St. Edward 12, Avon Lake 0
Cleveland St. Ignatius 3, Elyria Catholic 2 (2 OT)
Parma Padua Franciscan 4, Parma 0
Round #1
North Olmsted 7, Rocky River 2
Avon Lake 13, Brooklyn 3
Lakewood St. Edward 13, Parma Hts. Valley Forge 1
Cleveland St. Igantius 11, Lakewood 0
Elyria Catholic 7, Bay Village Bay 2
Parma Pdua Franciscan 4, Strongsville 2
Parma 4, Olmsted Falls 2
Sylvania District:
Seeded Teams: Bowling Green #1, Sylvania Northview #2, Toledo St. John's Jesuit #3, Toledo St. Francis DeSales #4
Round #5
Bowling Green 7, Sylvania Northview 0
Round #4
Bowling Green 8, Toledo St. Francis DeSales 1
Sylvania Northview 2, Toledo St. John's Jesuit 1
Round #3
Bowling Green 11, Millbury Lake 1
Toledo St. Francis DeSales 6, Perrysburg 1
Toledo St. John's Jesuit 2, Maumee 0
Sylvania Northview 10, Sylvania Southview 0
Round #2
Bowling Green 11, Toledo Waite 0
Millbury Lake 12, Holland Springfield 2
Toledo St. Francis DeSales 10, Whitehouse Anthony Wayne 0
Perrysburg 12, Toledo Bowsher 0
Toledo St. John's Jesuit 3, Toledo Central Catholic 2
Maumee 3, Toledo Whitmer 1
Sylvania Southview 4, Toldeo Start 3
Sylvania Northview 5, Oregon Clay 2
Round #1
Toledo Waite 7, Toledo Ottawa Hills 4