OHSAA State
Boys Tennis Championships
May 30 & May 31, 2014
OSU Outdoor Varsity Tennis Courts, Ohio State University, Columbus

Order your championship
photos today

Boys Tennis Information
Tournament Information
Boys Tennis History
Boys Tennis News and Notes
2014 Sectional/District Tournament Information
Media Information: Notify the tournament site manager to arrange for media credentials, if needed. Click on the link above and select the district you are covering to find the tournament site manager's contact information.
2013 State Tournament Information
Reminder for Coaches- A mandatory coaches meeting will be held at 8:00 a.m., Friday, May 31, at the Jack Nicklaus Museum, 2355 Olentangy River Road, Columbus, OH 43210.
May 31 and June 1 - OSU Outdoor Varsity Tennis Courts
Times and Format: Play begins both days at 9 a.m. with Division I singles players, followed by Division II singles players, followed by doubles teams.
Rain Facility: Elysium Tennis Center, Plain City
State Tournament Brackets
Tournament Information for Fans
No dogs or pets allowed in the facility. Tents are permitted.

Parking at OSU:

Parking for spectators for the state boys tennis tournament will be available at the lot adjacent to the Jesse Owens Memorial Stadium off Fred Taylor Drive. Some Handicapped Parking will be available in the small parking lot directly adjacent to the courts. This lot is also reserved for tournament officials and OHSAA personnel.

Parking at Elysium Tennis Center:

Spectators will park at Darree Fields Park, please enter from Houchard Rd., for the state tennis tournament should it move indoors to Elysium Tennis Center. The transportation Company, Capital Transportation will transport from Darree Fields to Elysium Tennis Center with shuttle service beginning at 9:30 a.m. There will be no shuttle service on Saturday, spectators may park at Elysium Tennis Center.
-Click here for a map of Darree Fields Park location.
-Click here for a map of Elysium Tennis Center location.
2012 State Tournament Coverage, Results & Recap
State Tournament Brackets
Mar. 10
First Day of Coaching
March 31
Season Begins
April 14
Non-Interscholastic Competition No Longer Permitted
May 4
Sectional Tournament Draw Date
May 12 - May 17
Sectional Tournament
May 19 - May 24
District Tournament
May 30 - May 31
State Tournament
June 7
Season Ends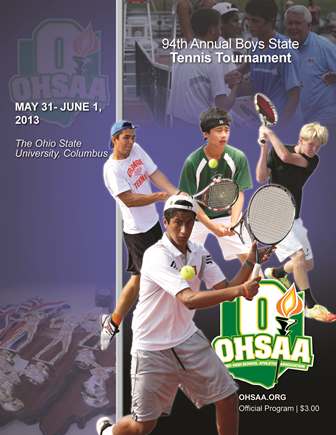 Order 2013 State Tennis Tournament Programs



Directions, Hotels, Tickets, Gear, Programs, DVDs