OHSAA State
Track & Field Championships
June 6-7, 2014
Jesse Owens Memorial Stadium, The Ohio State University, Columbus
Order your championship
photos today!

Track & Field Information
Tournament Information
Track & Field History
Track & Field News and Notes
Track & Field Online Rules Meeting
Feb. 24, 2014 - The track & field online rules meeting was posted Jan. 21 and is now only available with payment (through Feb. 28 at 3 p.m.). Please call Sharon Shoemaker at the OHSAA to view the meeting.
Note: [ Online Rules Meeting Problem Troubleshooting ]

Note that there is only one track & field presentation for both coaches and officials. There are required fields that may not be applicable to you ( i.e. school id and name if you're an official or permit number if you are a coach). Please insert 0000 in the fields that do not pertain to you.

In order to view the online presentation it is recommended that users use IE7.0 or higher; in addition Adobe Flashplayer must be installed on your PC; also, make sure your playback device (speakers) are working properly. Flashplayer is a free download from Adobe and can be downloaded from their web site at http://www.adobe.com/go/getflashplayer. OHSAA will not take phone calls or troubleshoot any user computer hardware or software problems.
NFHS Releases Track and Field Rules Changes
July 8, 2013 - Padding around the pole vault planting box will now be required through an NFHS rules change. Click here for the press release, which includes 12 other rules changes.
2013 District & Regional Tournament Information
OHSAA Wheelchair Division Information
Wheelchair Events Registration Website: www.ChagrinFallsTrack.com/OHSWTF
2013 State Tournament Information
Important State Meet Traffic Flow Announcement
All traffic coming to Jesse Owens Memorial Stadium for the state track & field meet should use the Ackerman Road exit from State Route 315. There are several high school graduations using the nearby Schottenstein Center at OSU, with that traffic being directed to use the Lane Avenue exit. (For reference, Jesse Owens Memorial Stadium is located at 2450 Fred Taylor Drive, Columbus, but please use the Ackerman Road exit even if coming from south of the stadium.)

State Meet Walk-Through Available June 6
The state meet venue, Jesse Owens Memorial Stadium, will be open from 4 p.m. until 6 p.m. on Thursday, June 6, for state qualifying student-athletes to visit, if desired. This availability is only for a "walk-through" and that no implements (including hurdles, starter blocks, shot puts, discus, etc.) are permitted. The facility will not open until 4 p.m. and will close promptly at 6 p.m.

Information for Qualifying Participants and Coaches
Tournament Information for Fans
Padding Permitted for Pole Vault Planting Boxes in High School Track and Field
April 24, 2013 - Padding for pole vault planting boxes that meets the new ASTM specification standard is now permitted for use in high school track and field competition. Click here to read more.
2012 State Tournament Results

Mar. 10
First Day of Coaching
Mar. 29
Season Begins
April 21
Non-Interscholastic Competition
No Longer Permitted
May 19-24
District Tournament
May 28-31
Regional Tournament
June 6-7
State Tournament
June 14
Season Ends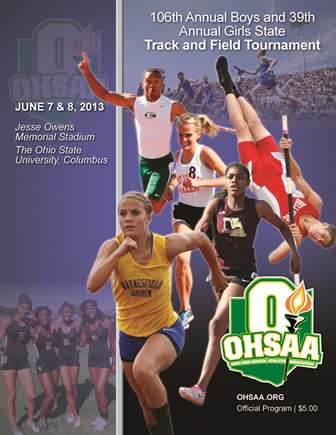 Order 2013 State Track & Field Tournament Programs



Directions, Hotels, Tickets, Gear, Programs, DVDs