Order your championship
photos today!

Track & Field Information
Tournament Information
Track & Field History
Track & Field News and Notes
Ohio Leads Nation with Seven Paralympic All-Americans in 2014
Pole Vault Areas Now Required to Include Box Collar
Effective December 1, 2014, pole vault areas are now required to have a new ASTM approved box collar. This new collar covers the inner part of the plant box, as well as the outside (see flyer linked below). The planting box shall not contain any foreign materials except planting box padding. Such padding, if used, shall meet the applicable ASTM Specification Standards, and can be incorporated into the design of the planting box or can be a padding addition to an existing planting box.
NOTES:
1.) Padding meeting the ASTM Standards may be used immediately, subject to rejection or conditional approval by state association action.
2.) Padding meeting the ASTM Standards shall be required for the start of the 2014-15 track and field season.
2014 State Tournament Information
Full Results:
Division I | Division II | Division III | Wheelchair Division
2014 District & Regional Tournament Information
Important State Meet Traffic Flow Announcement
All traffic coming to Jesse Owens Memorial Stadium for the state track & field meet should use the Ackerman Road exit from State Route 315. There are several high school graduations using the nearby Schottenstein Center at OSU, with that traffic being directed to use the Lane Avenue exit. (For reference, Jesse Owens Memorial Stadium is located at 2450 Fred Taylor Drive, Columbus, but please use the Ackerman Road exit even if coming from south of the stadium.)

State Meet Walk-Through Available June 5
The state meet venue, Jesse Owens Memorial Stadium, will be open from 4 p.m. until 6 p.m. on Thursday, June 5, for state qualifying student-athletes to visit, if desired. This availability is only for a "walk-through" and that no implements (including hurdles, starter blocks, shot puts, discus, etc.) are permitted. The facility will not open until 4 p.m. and will close promptly at 6 p.m.

Information for Qualifying Participants and Coaches
Tournament Information for Fans
Mar. 9, 2015
First Day of Coaching
Mar. 28
Season Begins
Apr. 20
Non-Interscholastic Competition
No Longer Permitted
May 18-23
District Tournament
May 27-30
Regional Tournament
Jun. 5-6
State Tournament
Jun. 13
Season Ends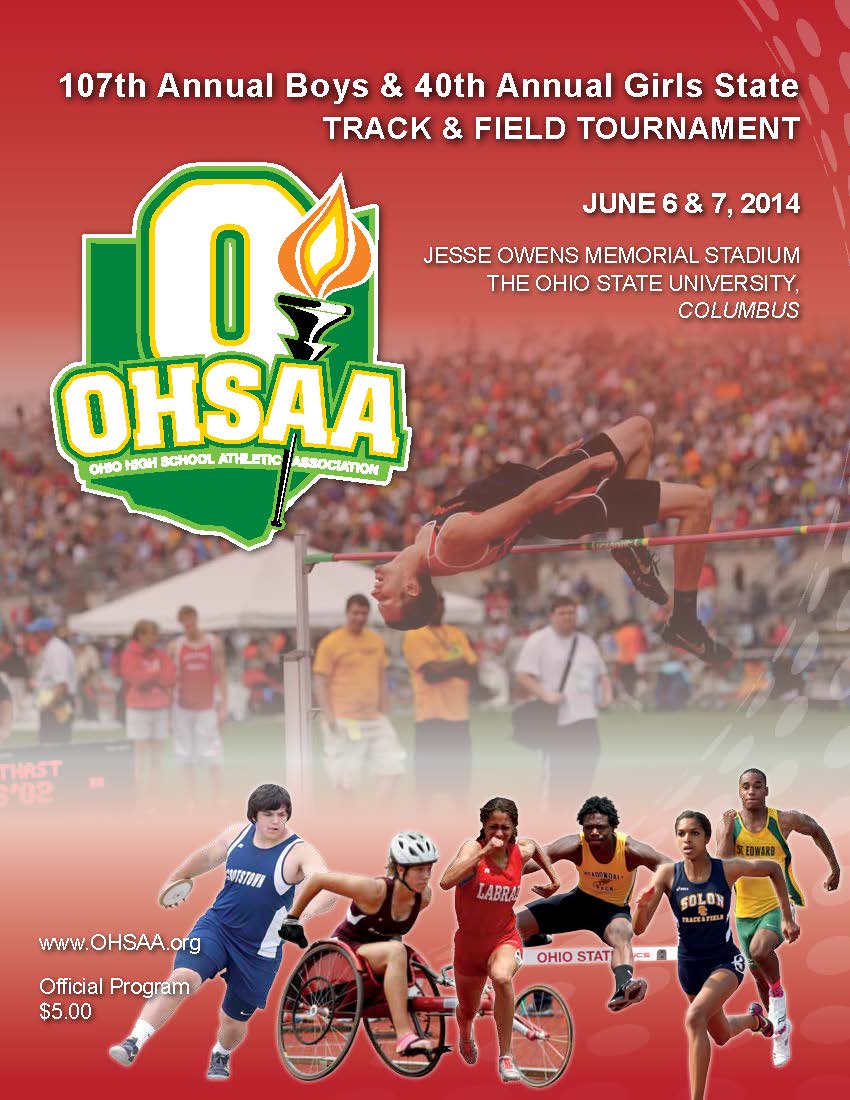 Order 2014 State Track & Field Tournament Programs



Directions, Hotels, Tickets, Gear, Programs, DVDs